Young job seekers will now have the opportunity of a lifetime thanks to a brand-new youth employment program set to shake up Australia's hospitality industry and address the training gaps and staff shortages across the sector.
Australia's hospitality industry is currently facing a major staffing and skills crisis, which has only been magnified by the ongoing pandemic. Businesses are not only having to deal with the crippling effects of constant lockdowns, but they're also struggling to find skilled staff to work shifts when they are open. To add fuel to the fire, the hospitality industry has had a bad rap in recent years thanks to a handful of business operators who have been exposed for mistreating or taking advantage of staff, making a lot of young people apprehensive about entering the industry.
Enter Restaurant & Catering Association (R&CA), the peak body for Australia's hospitality industry, who have just launched their new PaTH Program (Prepare, Trial & Hire). Targeted at 17-24-year-olds, this 5-week program aims to change the current dialogue and perceptions around the hospitality industry and reignite passion and excitement for an industry that has been brought to its knees over the last 18 months.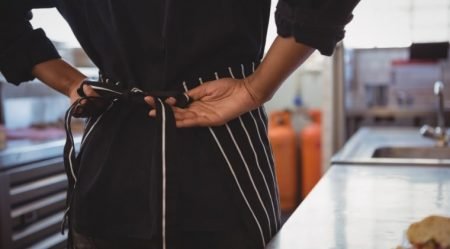 In this program – which is one of the first of its kind in Australia – interns do three days of face-to-face training where they learn foundational skills such as customer service, food preparation, knife skills, carrying plates and responsible service of alcohol. They then go on to do four weeks of hands-on work experience, where they get mentored by industry professionals and have the chance to put their training into practice at a participating restaurant.
One hospitality heavyweight who is thrilled to be taking part in the PaTH Program is owner of Melbourne's Caterina's Cucina e Bar, Caterina Borsato who said the benefits of the program extend to both owner and intern.
"The PaTH Program will assist our hospitality industry, which is embedded in my DNA, and will bring us back into line during the most challenging and disruptive time I have ever seen in my 25-year career. Good training means good practice, which means protection of our industry," she said.
"This program gives interns solid experience and skills that will set them up for life, and it gives business owners, like myself, the chance to mentor them so they can hopefully go on to have long and successful careers in the industry.
"If you take the time to train and nurture young people properly from Day 1, they can go on to do amazing things – in particular, I want young female job seekers to see this program as a pathway to various opportunities within this industry. Whether it's working front-of-house, being a chef, or eventually owning their own restaurant, I want to show them that with hard work and the right attitude, they can achieve anything they set their minds to."
There is no cost to the intern and for every intern, a business owner takes on and trains, they receive an additional $1000 of financial support from the government in recognition of the training, supervision and support they provide. If the intern completes the program successfully, they get offered ongoing employment with the restaurant or cafe.
Hospitality businesses can register their interest in taking part in the PaTH Program by visiting: https://www.rca.asn.au/interested-path-business-placement-program