If you're investing in an iPhone 15, it might be worth updating your accessories to get the best experience possible. From wireless chargers to cases, screen protectors, wallets, and phone mounts, here are our top picks across a range of iPhone 15 accessories.
HiRise 3 Deluxe
HiRise 3 Deluxe is a space-saving 3-in-1 wireless charger that offers luxury charging for your 3 most important devices. Place your iPhone on the soft vegan leather MagSafe charger and adjust the angle of the screen to see notifications at a glance. Flip the Apple Watch fast charger up from the base to charge your Apple Watch, including Ultra, in Nightstand mode. Finally, charge your AirPods or even a second phone on the soft vegan leather charging base.
Wirelessly charge your iPhone, Apple Watch and compatible AirPods (or second phone) simultaneously
Adjust the iPhone angle by 35 degrees to view notifications, videos or clock display featured in the upcoming StandBy mode
The space-saving vertical design has a footprint smaller than an iPhone Pro Max
Official 15W MagSafe Charger for iPhone, Apple Watch Fast Charger, and a 7.5W wireless charger for AirPods or a second phone
You can buy it here: HiRise 3 Deluxe
RRP $229.99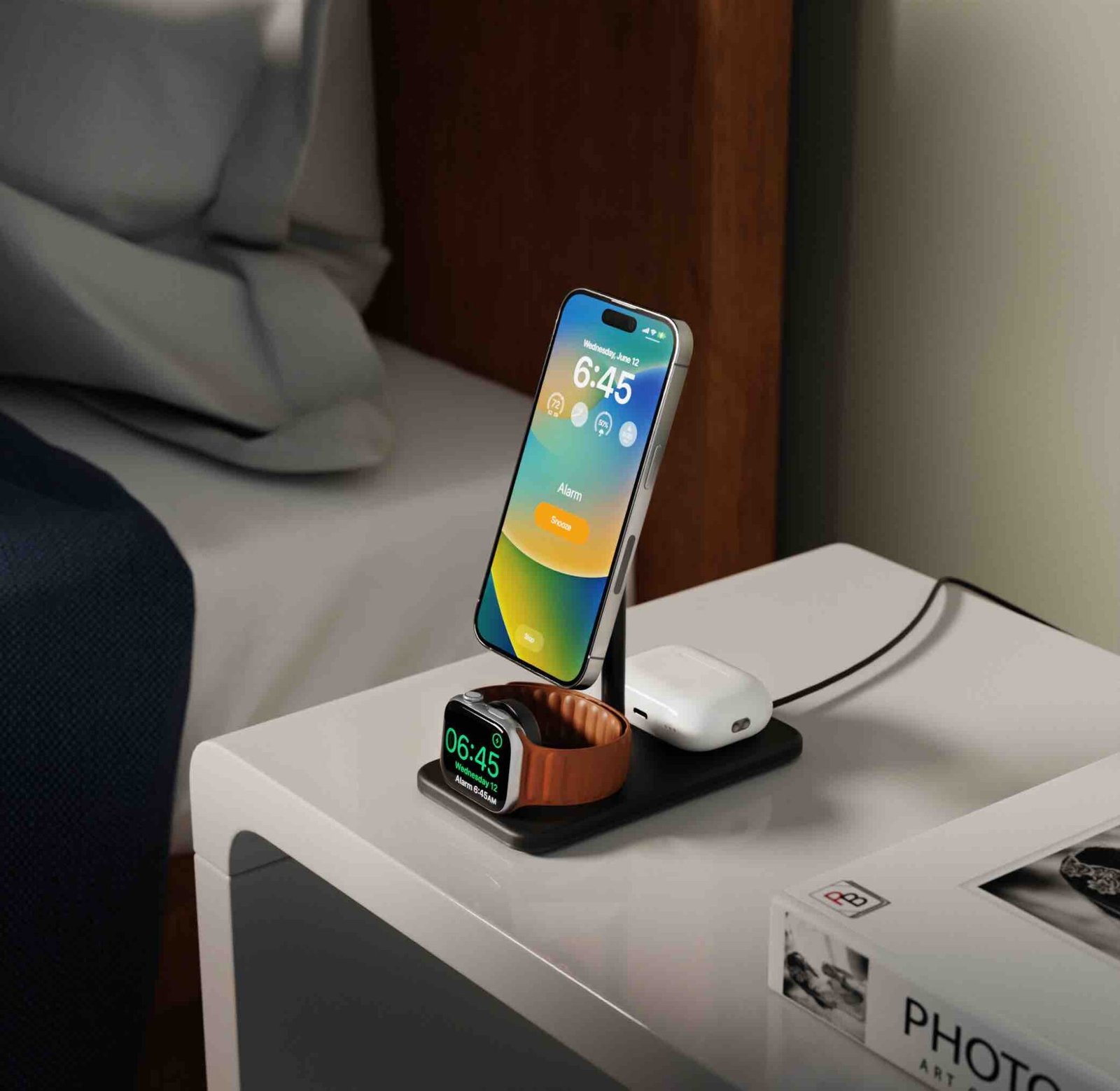 iPhone FineWoven Wallet with MagSafe
Designed with both style and function in mind, the new iPhone FineWoven Wallet with MagSafe is the perfect way to keep your ID and credit cards close at hand. It supports Find My, so you can be notified of your wallet's last known location if it gets separated from your phone.
The wallet features strong built-in magnets that allow it to effortlessly snap into place on the back of your iPhone. You can even stack it on top of a case with MagSafe to create a look that's unique to you. The FineWoven wallet supports up to three cards and is shielded so it's safe for credit cards.
You can buy it here: iPhone FineWoven Wallet with MagSafe
RRP $99.00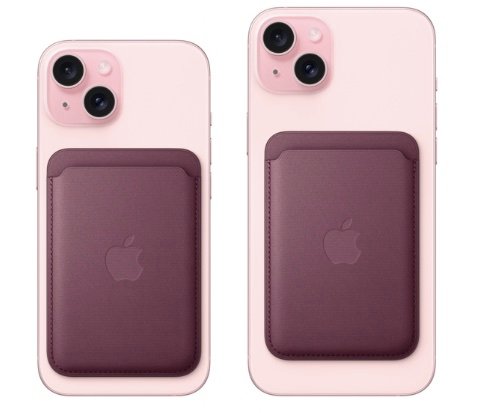 Mindfulness iPhone 15 Cases
STM Goods has announced the launch of its groundbreaking new Focus Collection of phone cases specifically designed for the iPhone 15. These aren't just ordinary phone cases; they are designed to promote mindfulness, improve focus, and help restore personal wellbeing.
This game-changing collection (including the Relax, Reawaken, and Reveal cases) comes with a variety of designs that incorporate tactile materials, serene color palettes, and interactive features that encourage users to be in the moment. The cases are made from impact-resistant, high-quality materials that are comfortable to the touch yet durable for everyday use.
Key Features:
Focuscape Interactive Elements: Each case comes with built-in interactive elements like stress-relief textures, flowing sands, and heat-responsive images that encourage tactile interaction and focus.
Minimalistic Design: The stylish designs are elegantly clutter-free and minimalistic, embodying the very essence of mindfulness.
Compatibility: Perfectly tailored to fit the new iPhone 15, providing full access to all ports and buttons without compromising on style or substance.
 Available in Reawaken $54.50 RRP, Reveal $63.59 RRP AU and Relax $63.59 RRP.
You can buy it here: Mindfulness iPhone 15 Cases
Glass XTR3 ECO iPhone 15 screen protectors
Glass XTR3 ECO, made with Hexiom impact technology, is ZAGG InvisibleShield's most technologically advanced screen protector and is 10X stronger than traditional glass screen protection. Glass XTR3 ECO features a few key improvements:
Highest Level of Blue Light Filtration: With new-to-world RPF60 technology from Eyesafe®, Glass XTR3 ECO keeps your eyes safe with the world's strongest blue light screen protection, and it won't change the colours on your screen—meaning no yellow tint
Recycled Glass Content: Glass XTR3 ECO is made with up to 30% post-consumer recycled glass, its installation tray is made from 100% recycled content, and its packaging is 100% recyclable.
You can buy it here: Glass XTR3 ECO iPhone 15 screen protectors
RRP $69.95
ZAGG Graphene and Essential Cases
The ZAGG Graphene range will contain the revolutionary material Graphene, which is harder than a diamond, yet more elastic than rubber, and up to 200x stronger than steel.
The ZAGG Graphene lineup includes
Crystal Palace ($39.95) – For years, Crystal Palace has been a consistent favourite of phone users because of its 13 feet (4m) of drop protection and sleek design. Now, Crystal Palace is made with up to 78% recycled content. The strong, sleek choice in case protection is also the responsible one.
Milan Snap ($59.95) – Your phone is a work of art, so your case should be too. This MagSafe-compatible case has a beautiful, semi-transparent surface enhanced with subtle, nature-inspired imagery including ocean and iridescent. Milan Snap has been tested and proven to protect your phone from drops up to 13 feet (4m). It's also made with up to 74% post-consumer recycled plastic.
Denali Snap with Kickstand ($69.95) – Like the Denali Snap, the MagSafe-compatible Denali Snap with Kickstand also provides serious drop protection—16 feet (5m)—with a no-slip grip and a textured finish. It also features an integrated kickstand that allows for hands-free viewing, then folds back flush with the case. It's made with up to 92% recycled materials, so you can feel good about your case purchase too. Denali Snap is available in two colours: navy and black. 
You can buy it here: ZAGG Graphene and Essential Cases
mophie Magnetic Vent Mount with MagSafe
The mophie magnetic vent mount holds your iPhone securely and preserves access to all the ports. It's Made for MagSafe, and it has an adjustable arm extension that lets you position your phone at a perfect viewing angle. The mophie magnetic vent mount clips to the vent in almost any vehicle, and its powerful magnetic surface holds your iPhone securely.
The magnetic vent mount holds your iPhone securely without grips or clasps, so you can attach and detach your iPhone easily with one hand.
You can buy it here: mophie Magnetic Vent Mount with MagSafe
RRP $49.95
For more on the iPhone 15, check out:
Apple Releases the iPhone 15 with Upgraded Camera Features and Universal Charging
Tech Talk: Save Money on Apple iPhone 15 Plus Driverless Taxi Services and Smart Watch News