From road trips to relaxing nights in, music truly is the soundtrack to our lives. And the Spotify app has been at the forefront of revolutionising the way we experience it. With an extensive library of songs from every genre imaginable, Spotify has become the go-to platform for music lovers worldwide. But, just when you thought the world's most popular audio streaming subscription service (with over 551 million users, including 220 million subscribers across 180+ markets) has mastered the art of mobile music, the team who brought you playlists is offering Spotify Daylist – the dynamic playlist that syncs with your changing moods throughout the day.
The Spotify story, so far …
So what's made Spotify so special so far? Some of the classic features that have propelled the app into category of classics include its ability to explore a vast collection of pre-made playlists, discover new music tailored to your taste and create and curate your own playlists. It's a treasure trove for music enthusiasts, offering features like:
Personalised playlists: Spotify's algorithms learn your music preferences and create playlists like "Discover Weekly" and "Release Radar" just for you.
Spotify DJ: Which uses an AI guide to analyse your listening habits and genre preferences to curate a set of music it knows you'll love. And a lineup of songs alongside voice commentary around the tracks and artists.
Collaborative playlists: You can create playlists with friends, family, or colleagues, making it easy to share your favorite tunes.
Offline listening: Premium users can download songs and listen to them without an internet connection.
What does the Spotify Daylist actually do?
Let's be honest. The energy you have catching the crammed 8.15am train to get you into work, is not the same vibe you'll be feeling as you head home knowing that you've survived the daily grind yet again! Spotlify Daylist recognises this. And adapts your playlist to your mood throughout the day, ensuring that you always have the perfect soundtrack for every moment.
This new, one-of-a-kind playlist ebbs and flows with unique vibes. It brings together the niche music and microgenres you usually listen to during particular moments in the day or on specific days of the week. It updates frequently from am to pm with a series of highly specific playlists made for every version of you. And reflects what you want to be listening to right now in a hyper-personalised, dynamic, and playful manner.
Some of the key features of this game-changing functionality include: Dynamic updates – with Daylist updating multiple times a day, to serve up playlists tailored to your current mood and activities. Brilliant playlist names – with unique titles like "Windows Down Thrillwave Thursday Evening" and "Happy Dance Energy Friday Morning." These playlists are precision-designed to match your vibe. And personalisation – your Spotify Daylist is all about you. It evolves as your day unfolds, ensuring that you have the perfect songs for every moment.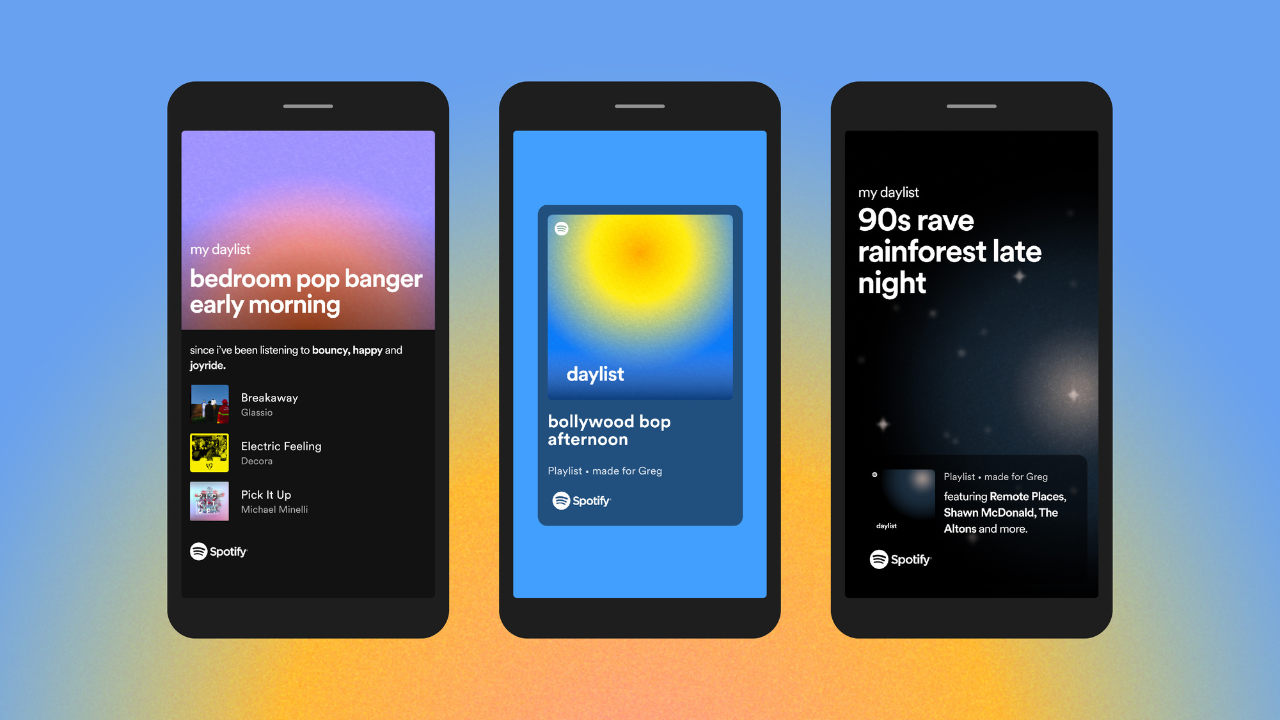 How to get your Spotify Day(list) started?

Starting with Spotify Daylist is simple. To begin, open Spotify on your preferred device and search for 'daylist.' This unlocks your Daylist and grants you access. For quick and convenient access throughout the day, be sure to save your Daylist to your Spotify library. And finally, don't keep the magic to yourself! Share your Daylist with friends and family on social media using the provided sharing options. Let them in on the musical journey.
Daylist is available to both Free and Premium Spotify users in Australia, the US, Canada, the UK, New Zealand, and Ireland.