Dyson has launched a new range of vacuum cleaners with new, de-tangling brush bar technology, a cordless Pet Groom Tool, a Scratch Free Dusting Brush and Awkward Gap Tool attachment – all engineered to help you get the whole home clean.
The new de-tangling brush bar technology is now available across the latest range of Dyson vacuum cleaners and it makes cleaning up hair – whether it's left behind by our feline, canine, or human friends – much eaier. Inspired by a de-tangling comb, the brush bar features 56 hair removal vanes, precisely angled to help migrate all hair types directly into the cleanerhead. These polycarbonate teeth, combined with a set of spiraling nylon bristles, anti-static carbon fibre filaments, and strong suction power, are able to capture tangled hair – as well as larger debris and microscopic dust.
Dyson engineers and microbiologists studied a variety of animals such as cats and dogs, along with more unexpected animals such as alpacas, donkeys, horses and rabbits. This provided the team with a detailed understanding of size, texture and structure of hair across animal species and breeds, as well as the invisible allergens and bacteria they can introduce to the home.
In addition to traditional real-world engineering methods, the development team combined high-speed camera footage with computational fluid dynamics (CFD) software to create 284 different hair fibre simulations. This replicates how different lengths of hair interact with high velocity airflow and virtual prototypes of the tools, allowing them to maximise their research while reducing the number of physical prototypes needed. This research enabled Dyson engineers to precisely engineer the hair removal vanes to match the dimensions of the brush bar while maintaining detangling performance across all hair types.
The impact pets have in the home goes beyond what we can see
Monika Stuczen, Research Scientist in Microbiology at Dyson, says: "The impact pets have in the home goes beyond what we can see. Effectively removing pet hair is important, but pet dander with dried-on saliva is a problem which is invisible to the naked eye. These microscopic particles can carry allergy-causing proteins around the home. Lightweight and miniscule, they can remain airborne for hours or transfer between objects. Research has even found cat allergens in rooms where cats have never been. So, the proper filtration found in Dyson machines is vital to maintain a cleaner whole-home environment."
Pet hair can carry pollen and other allergens all around your home. But Dyson has found that pet owners are likely to be unaware of the hidden impacts of their furry friends. By investigating cleaning habits from around the world, Dyson revealed that 1 in 2 pet owners allow their pets to sleep on their beds. Yet two thirds of Aussie pet owners are unaware that viruses and house mite faeces can reside on their pets.
Cleaning faux-paws: New Dyson dust study reveals nearly half of Australians allow their pets to sleep on their beds but are unaware of the nasties left behind
Dyson has revealed further insights from its annual global dust study, investigating cleaning habits and behaviours, delving into our understanding of household dust and the potential impact it can have on our wellbeing. The latest study, undertaken by 12,309 respondents from 11 countries around the world found that people continue to be concerned about the cleanliness of their homes as a result of the COVID-19 pandemic. 93% of Australians are cleaning just as much, if not more, than they did last year to ensure their homes remain a clean and healthy space.
The pandemic also saw a surge in pet ownership and 57% of households across the world now own a pet. In Australia, 52% of households have a pet, with 56% of owners not restricting the areas that their cats or dogs may be. However, awareness of what may reside on their pets is low which is a concern.
Over 60% of Australians did not know that pollen can reside on their pets, and just under half (49%) do not know that bacteria can reside on their pets too
Nearly two thirds off Australian pet owners are unaware that viruses and house dust mite faeces can reside on their pets
Less than half (45%) of Australians groom their pets to keep their home, and their pets, clean
"Many people think that pet hair is the biggest problem as it is the most visible," says Monika Stuczen, Research Scientist in Microbiology at Dyson. "It is unsurprising that people are unaware of the other particles that may reside on their pets because these particles tend to be microscopic in size."
People often think that pet hair triggers allergies. However, some allergies are triggered by allergens that can also be found in pet dander. While nearly a third of Australian pet owners groom their pets at home at least once a week, 81% do so with just a brush or comb. This reduces the amount of pet hair they shed around the home; but microscopic particles remain on their pets that can potentially be spread around the home.
This lack of awareness around what constitutes household dust extends beyond pet owners, with 38% of Australians admitting they are only motivated to clean their home when there is visible dust and dirt.
"It is a cause for concern if people only clean when they spot visible dust on the floors as many dust particles are microscopic in size," says Monika. "In fact, by the time people spot visible dust in the home, it is highly likely that there are dust mites in your home."
Are people cleaning the right spaces in their homes – with the right methods?
Year-on-year, we've seen positive shifts in people's cleaning habits. More people are vacuuming some of the commonly overlooked spaces including their mattresses and sofas when cleaning the home. However, 77% of owners do not vacuum their mattress, which is of even greater concern when you consider that 45% of pet owners share their bed with their pets.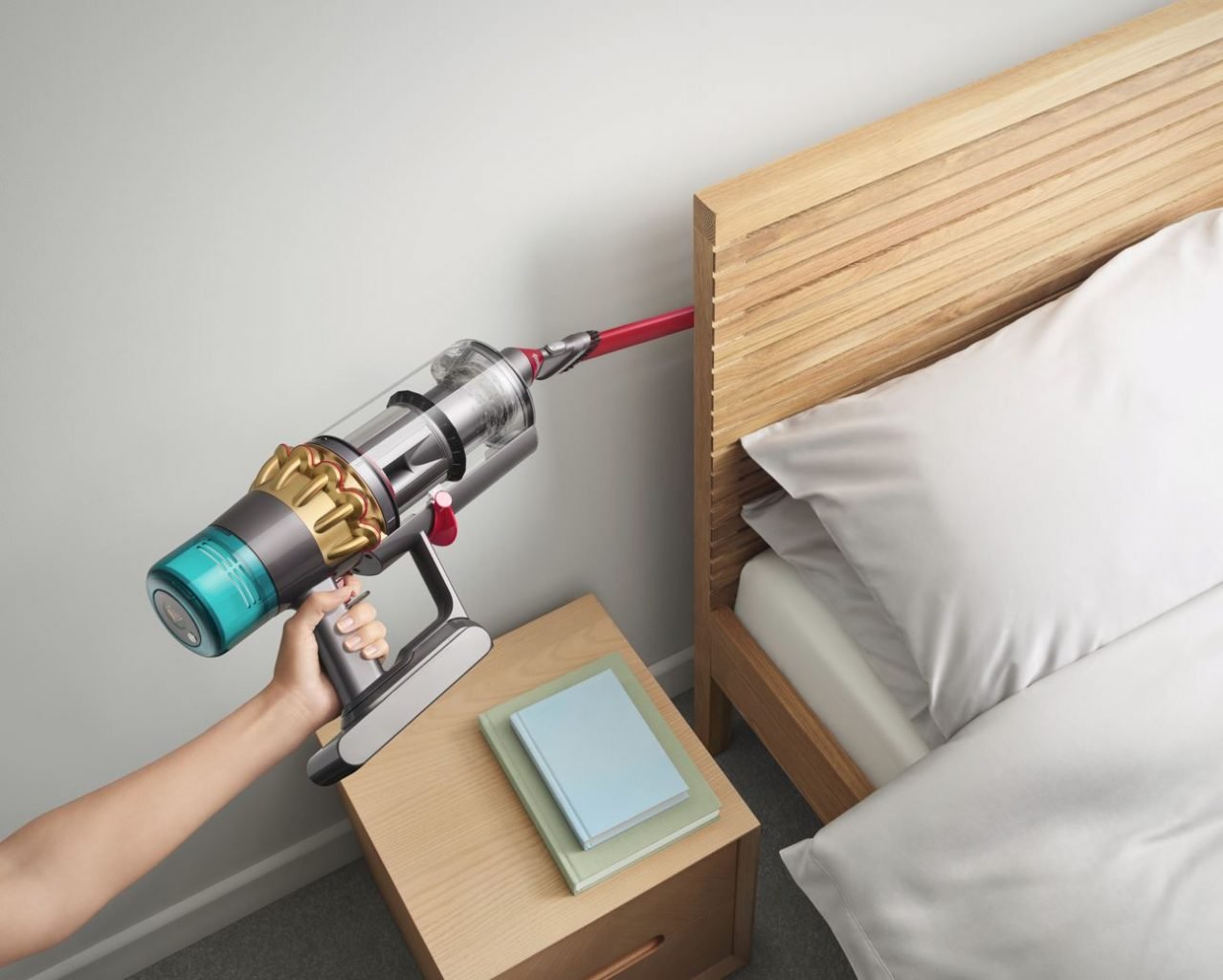 Reaching the tight spots – Dyson's Awkward Gap Tool
Sometimes crevice tools can be rigid, making them hard to use in tight, awkward spaces, while flexing crevice tools can lose suction when bent. Dyson's new Awkward Gap Tool twists 22 degrees because testing showing this this is the optimum angle for cleaning the hardest-to-reach places around your home or car.
With a width of 12.5mm and 254mm reach, it's engineered to reach and clean deep into narrow gaps. The attachment also offers a secondary brush at the tip, to tackle the more stubborn areas. This new attachment is part of Dyson's full suite of 12 vacuum cleaner accessories.  
The Dyson V8 vacuum has the latest de-tangling technology
Launched back in 2016, the Dyson V8 vacuum was designed to deliver cord-free cleaning for up to 40 minutes. Now it's upgraded with Dyson's hair de-tangling technology, including the new Motorbar cleaner head and the de-tangling Hair screw tool, to capture the visible mess pets leave behind. To also trap invisible particles the size of pet dander and allergens, filtration has been improved from 99.97% to 99.99% efficiency at 0.3 microns – in line with the latest Dyson V15 models.
For more about Dyson, visit here.
For more from Women Love Tech on the latest tech, visit here.