While only 28% of the workforce in STEM in the US is made up of women and in Australia, among the university-qualified STEM workforce women only take up 29%. So, you may be surprised to learn, Lithuania is a hub for women's empowerment and technological advancement, with women making up more than 58% of all scientists, far outpacing the trend in all of Europe, the US and Australia.
Gender parity in the Lithuanian STEM field didn't just happen. It developed over time and by means of intentional investment, leading to a culture where women not only choose STEM but excel in the field. Lithuania's biotech sector has women to thank for its growth rate of 87% over the past decade, a major boom by any standard and the fastest in Europe.
Agnė Vaitkevičienė is one of these women, who has risen to be a leading expert in the biotech field. She is now the COO at Cureline Baltic – a company at the forefront of global lab diagnostic services.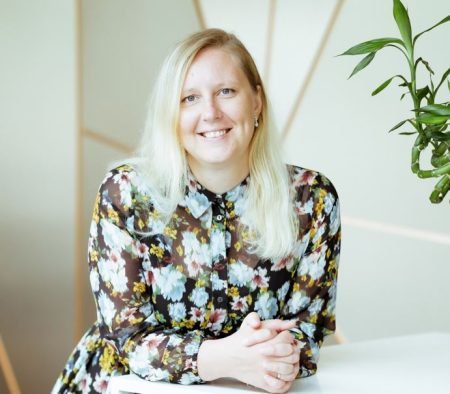 Agne holds a BS in molecular biology from the Vilnius University in Lithuania and a MS in organ, tissue and cell donation from the University of Barcelona in Spain. Since 2006 she has been working in the field of cell therapy as a quality assurance specialist. In 2013, Agne co-founded a life science startup company and managed its activities in the field of advanced therapy medicinal product research and manufacturing as CEO until 2019.
Since 2019 she has been actively involved as an expert in EU programs, such as IMI2, EIT Health InnoStars and consults biotechnology companies in life science product development management. For the last three years, Agne has been actively involved in life science expert groups within governmental organisations such as 'Enterprise Lithuania', Science, Innovation and Technology Agency, 'Invest Lithuania' and others.
The Lithuanian biotechnology association elected Agne as a vice-president in 2019 and delegated responsibilities of coordinating foreign affairs and startup support activities within the association to her and in 2020 she became an executive director of Lithuanian biotechnology association.
Here at Women Love Tech, we talked with Agne and asked her what fuelled her interest in biotech?
I always was creative, participating in various activities when I was a pupil in school, in music, in dances and so on. I never thought tech would involve much creativity until I met a very inspiring scientist, just by accident, who described to me a lot of technical projects she was working on in creating various innovations to solve today's healthcare problem. I was so amazed and so inspired that I wanted to pursue and learn as much as I could about biotech and how it can empower and solve global issues.
On my career path, I found there's even more than just the health sector within biotech and found the ability to use this skill to generate ideas and solutions for various issues. The environmental or climate change sector is also very open to innovations and new technology developments, and so a lot of the activities that I do today are related to all creation and acceleration of new ideas and innovations in that application. I'm very happy that I accidentally met someone whose story inspired me to enter the biotechnology sector.
Lithuania is ahead of the game when it comes to gender parity in STEM. What is the reason for this and how was it pertinent to you?
Yes, Lithuania, is one of the few leaders of women balance exceeding 50% compared to men in STEM, and this is probably related to historical progress. For instance, in the tech industry, Lithuania was always ahead, always a centre of technologies, whether it's lasers or biotechnology under the Soviet Union. This created an environment for generations of scientists and technologists to enter this sector. Women were always involved in the general workforce, even in the 1950s. I think this is what has been passed down through time – that women are active in the work environment through learning and participating in the technology sector – both as technicians and as creators.
Only within the last decade, when I launched a startup company together with my partners and became a leader in biotech, did I find out there are challenges in this area for women to move forward. I try to be active in encouraging women to pursue their careers in STEM, in tech science. I'm also working with the education system to emphasise examples of women in STEM that might motivate other women to take this career path.
Some of the most prominent female scientists in the field of life sciences in Lithuania who I look up to are: Prof Dr Aurelija Žvirblienė, Prof Dr Sonata Jarmalaitė, Prof Dr Vaiva Lesauskaitė, Prof Edita Sužiedelienė, Dr Urtė Neniškytė, Dr Inga Matijošytė, Dr Jurgita Skiecevičienė and Dr Ieva Plikusienė – to name a few of them.
What would you say to women wanting to pursue a career in STEM? 
Just recently I had this conversation with schoolteachers on how to show young girls more diverse options so they can learn more about what's available. To show them the amazing colors, creativeness, and possibilities in the area of STEM.
I see the importance of this in my own life as a mum. I myself have a daughter, who loves to do science experiments and play – while exploring technology. I think that's something that must be emphasised more in education and in parenting.
For women seeking jobs, the job market in STEM is growing every day, and we need highly-skilled, qualified people working in this area, whether it's men or women. I think this adds value to a person to pursue a career in this field, to see rapid changes and growth. And there are some stereotypes which show it might be a complicated and very difficult field, but it's not if you're eager and motivated to learn. So, I think it's important to use motivational tools and educational points to show the STEM career is reachable and very available today.
What are you currently working on? 
Besides my career, I also actively participate in activities organised by Lithuanian Biotechnology Association. One of them is Women in Biotech which inspires women to become leaders in this field by introducing different stories of various career types available in the biotech industry.
The Lithuanian Biotechnology Association is currently working on creating an accelerator mentorship program for women in collaboration with our Irish partners to have a more international approach. As said, during the progress of women in biotech, we see how these inspirational stories impact women, women scientists and young students on choosing their path. We also get a better understanding of key steps and how goals you set up can be achieved. The accelerator programs are really, really important, to help with the first steps and I'm looking forward to setting goals for this program too.
What can the rest of the world learn from the way Lithuania empowers women?
In my opinion, Lithuania has a lot of strong scientists who carry out research that is important to Lithuania and the world. And in recent years, we have seen a very active involvement of women in the promotion of science, which is extremely crucial.
Lithuania is one of the fastest-growing centres of life science in Europe. During the last decade, Lithuania's biotechnology sector grew by an average of 16.4% per year, and in 2020 alone – by 87%. This growth is linked to several factors. The most important ingredient is active, curious and smart scientists.
Older generation scientists with the highest level of competencies and young ambitious students, doctoral students, and researchers are excellent synergy in developing scientific ideas in an academic and business environment. State support and investment in this sector, which enables motivated developers to develop their ideas, are essential. This paired with decades of experience in genetic engineering and proteomics, means Lithuania has a lot of potentials to create and develop global innovations in the field of medicine and the environment.
In Lithuania, we have some other very strong other fields of science and technology, such as lasers, information technologies, which perfectly merge into the interdisciplinary directions of biotechnology and life sciences development. We still must try much harder in all these areas, but the gained competencies and openness to co-creation are some of the reasons why other countries are trying to work together, create the latest technologies and implement innovative solutions in the fields of human health, industrial biotechnology – and the environment.
What's your favorite apps and podcasts and why?
I follow a lot of IT, laser technologies and space technology news. And interesting specific influencers that share their stories, successes, startup stories on how they progress over time. LinkedIn, also, is one of the main tools for me to connect and be updated on what's happening in the world. My newsfeed has a lot of scientific publications and magazines, and the newest publications in science as well.
I am working on organising Virtual Biotech Cafe podcasts which are available online in the Lithuanian language. Every last Thursday of the month we meet with scientists and the startups and businessmen which are working in the area of biotech and share the innovations with users. So, we have a one-on-one discussion with the participants and discuss various topics, whether it's drug development or food industry innovations or genetic engineering topics, startup stories and similar. So, these are my favorite podcasts for now.
In my personal time, I love to listen to books read by actors. And we have this National Lithuanian radio which has these podcasts on reading these classical books and modern books by good actors. So, I enjoy listening to them in the evenings before I go to bed.
Tell us how you came across Women Love Tech, we'd love to hear your favourite stories so we can do more of them?
My LinkedIn news feed caught one of the articles about how to encourage women in STEM. I was engaged in more content on Women Love Tech and became a follower.
For more information about how Lithuania leads Europe with the number of women working in STEM, visit here.
For more information from Women Love Tech about women in STEM, visit here.