Realness and understanding through authentic visual story telling is what people want to experience, according to a new report by Getty Images VisualGPS. So, if you want to appeal to your audience the simple tip is be real.
In an era where we are flooded with visual images and streaming, particularly with the latest isolation streaming and virtual experiences trend, what is evident more than ever is that we relate better to things when what we see is authentic.
Our relationship with technology is a complex one but fundamentally our focus is on how it enhances our lives, and this might be in our ability to have 'quarantin-ey five o'clock cocktails' on zoom during isolation or family Face Time meetings with loved ones wherever they are. In both these examples, our primary interest in technology is its ability to allow us to enjoy real moments. Technology is simply the facilitator.
It's in this way that tech can help humanise our lives because it's essentially helping to bring people together from all corners of the world. And yes, it brings with it frustrations too.
These were some of the messages that came across in Petra O' Halloran's recent webinars outlining the findings from a new Getty Images Visual GPS report.
Petra, who is a Creative Research Project Manager at Getty Images, said the findings reveal the tensions between the binary impact technology has on wellness and relationships, as well as unveiling key issues affecting people today across the sustainability, wellness and realness pillars.
The research leverages Getty Images' proprietary sales and search data, from over one billion searches annually, as well as insights from its Creative Insights team and a wide-ranging consumer survey, which was completed in conjunction with global market research firm YouGov.
"Consumers are so in tune with what they want and expect out of brands nowadays. They will quickly consider boycotting a brand that doesn't reflect their values or speak to the issues they care about," adds Petra O'Halloran.
Customers gravitate towards the companies that understand what matters to them and reflect this understanding through authentic visual story telling"

Getty Images' Petra O'Halloran.
"One of the many things Visual GPS shines a light on is the complex relationship Australians have with technology – technology enables so many positive experiences, but many of us resent it for its constant presence in our lives.
Brands are able to use this insight to adjust the ways they communicate visually with their audiences, ultimately forming a better, more personalised connection with their customers."
Here are Visual GPS' findings:
Technology
Technology is constantly evolving, making it a tough concept to stay current with. Physically, it can range from the latest mobile app to advances in electric vehicles. But it's not necessarily devices that drive decisions—it's people's relationship to tech and the way they choose to interact with it that will determine what connects.
Four in ten (41%) of ANZ respondents believe that use of technology has damaged their relationships with others, while 82 per cent also said that technology makes them feel connected to those that matter most. Moreover, 43 per cent agreed that when they spend time on social media sites, it often makes them feel like their life "isn't as great as other peoples'"
"The language of technology changes as quickly as tech itself. And that holds true for visual expectations— particularly right now. Conference calls, for example, look entirely different than how they looked just a few months ago," said O'Halloran. "With technology playing a vital role in our lives, we have seen the search term 'working from home' increase by 3,200 per cent, 'telemedicine' rise by 364 per cent and 'video call' increase by 836 per cent."
When it comes to the future of technology, 51 per cent of those surveyed in Australia and New Zealand are nervous about the emergence of Artificial Intelligence. This compared to the global average of 43 per cent.
Wellness
The number one characteristic that ANZ respondents want in their life is the health and well-being of one's self (66%) and their family members (65%). Compared to the global results of 60 per cent and 61 per cent respectively, Australia and New Zealand are ahead of the curve when it comes to desiring wellness.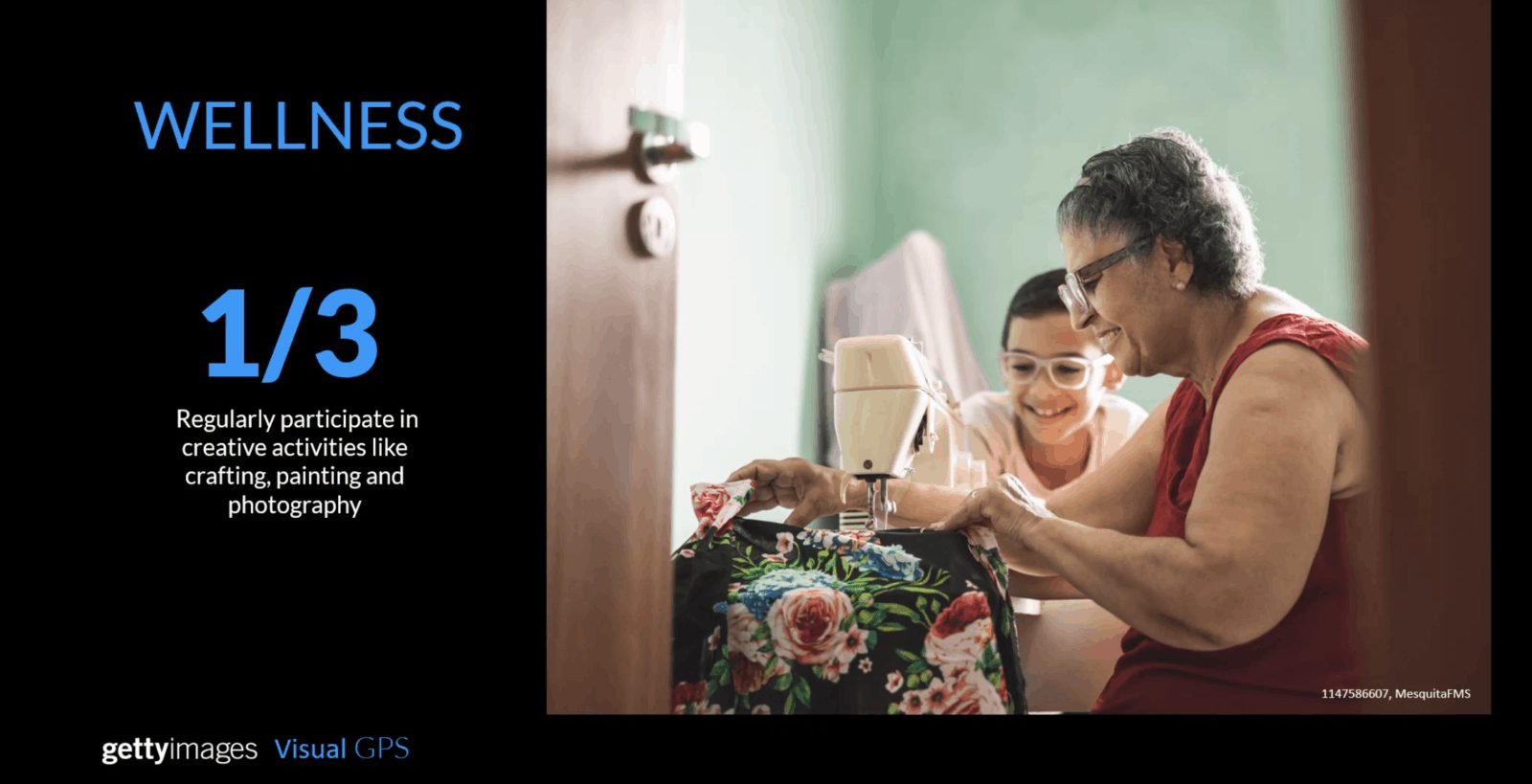 What the research also reveals is that whilst physical fitness is still very important, with 84 per cent of ANZ respondents saying they try to take care of themselves physically, there is also a strong focus for respondents (87%) for emotional health.
93 per cent of Australians and New Zealanders believe that it is important to talk about mental health, placing the region above the global average of 91 per cent.
When it comes to putting wellness attitudes into practice, however, Australians and New Zealanders are in fact underperforming. Only half of the ANZ respondents say they practice healthy eating (54%) and exercise (49%). Just one third (31%) visit the doctor for preventative screenings and physicals, 18 per cent say they meditate and only 23 per cent report practicing stress management. This tension between intent and action when it comes to wellness in the ANZ region is where effective and authentic visuals can step in.
"Unsurprisingly, searches for Health and Wellness have risen significantly, up by 177 per cent since the start of COVID-19" says O'Halloran. "More significantly, there has been a shift to self-care, with rises in related search trends, such as mental wellness, mindfulness, wellbeing, and meditation."
Realness
In relation to Realness, 62 per cent of consumers across Australia and New Zealand respondents said it was important to them that companies they buy from celebrate diversity. This stat is 6 percentage points lower than the global figure (68%), indicating Australia and New Zealand are on the right track but still have a way to go when it comes to celebrating diversity in advertising. Having said that, the research also revealed 87 per cent say companies need to show people with all body types.
34 per cent of respondents in the region boycotted a brand that went against their values, and 26% said they started buying products from a brand that supports a cause they believe in. Getty Images has also seen a 133% increase in ANZ searches for diversity in their image data base.
Over half (56%) of ANZ respondents say they have been discriminated against for one or more of: their gender, gender identification, ethnicity, religion, sexual orientation, lifestyle choices or body shape. It is for this reason that brands need to take realness and diversity in their marketing and advertising seriously.
Sustainability
Sustainability is a force that is a key focus across generations, gender, and regions. Brands across every industry are now expected to demonstrate their contribution to the sustainability of our planet.
According to the report, 92 per cent of ANZ respondents believe that the way the planet is treated today will have major impacts in the future. Searches for imagery representing sustainability (+142% increase since last year) and sustainable living (+201%) are currently trending on Getty Images' website.
Whilst Australians and New Zealanders are passionate about sustainability, there is an apparent paradox between consumer attitudes and their actions. 77 per cent of ANZ consumers surveyed reported they saw themselves as "eco-friendly", however only 45 per cent report only buying from brands that try to be eco-friendly. This is compared to the 60% of APAC respondents that are say they buy from eco-friendly brands.
This consumption conundrum reflects how many ANZ consumers want to care more about the environment but put their own convenience first.
To read the full report, visit www.visualgps.com.
About Visual GPS
Visual GPS is a first-of-its kind solution to help Getty Images customers navigate their visual strategy. Getty Images partnered with YouGov, a global market research firm, surveying more than 10,000 consumers and professionals in 13 languages across 26 countries, as well as leveraging Getty Images proprietary insights and search data, from over one billion searches annually. The landmark research details key insights relating to consumer decision making, helping brands to navigate the crowded visual landscape and select the visuals which resonate best with their target audience. Fresh insights will be unveiled throughout 2020 and beyond, through reports, articles, videos, social content and custom opportunities.