Today, Reddit is rolling out its Discover Tab – a navigational tool providing an engaging way to more easily find content and communities across the platform.
"We're ushering in a new era of discovery on Reddit, with images and video top of mind," said Jason Costa, Director of Product for Content and Communities at Reddit.
"We're making discovering relevant content and communities more intuitive with the Discover Tab. It's a great new way for people to explore and engage with hundreds of thousands of communities around the world."
How Discover Tab Works
Reddit will tailor your Discover Tab to show what they think you will enjoy the most. This is based on your history of interacting with certain communities. For example, if you subscribe to and spend a significant amount of time on travel pages, Discover Tab will prompt you to interact with other travel-related content.
To access the Discover Tab, just tap on the new compass icon on the bottom bar – to the left of the home button. At the top of Discover Tab, you can filter the feed to a specific topic to find new content and communities. Underneath the topic filters is the feed where content is shown. To ensure that the feed improves over time, Reddit has added feedback mechanisms that allow people to select: show me more of this content, show me less of that content, and hide that content.
From houseplants and pickling at home, to Golden Globe moments and Dungeons and Dragons memes, the new feed brings a rich variety of content to the forefront in a visually appealing way, and makes it simple to engage and enjoy spending more time on Reddit.
New Community and Profile Drawers
Once you discover and join new communities, how do you keep them organised in the app?
To solve this, Reddit is introducing new Community and Profile Drawers to make it easier to prioritise the communities you care about most.
Community Drawers
By tapping the drop-down menu at the top left on the home screen, you can get to communities and custom feeds faster than before. The Community Drawer is divided into four sections:
"Moderating entry points" in which moderators can see their mod feed, mod queue, and the subreddits they moderate.
"Your communities" where the communities redditors subscribe to can be sorted and customised;
"Following" which shows redditor accounts a user follows;
The "r/all" entry point; and
Profile Drawers
Reddit is also introducing a Profile Drawer where you can access their profile and customise it on the fly by swiping left or tapping on their profile icon at the top right of the home screen.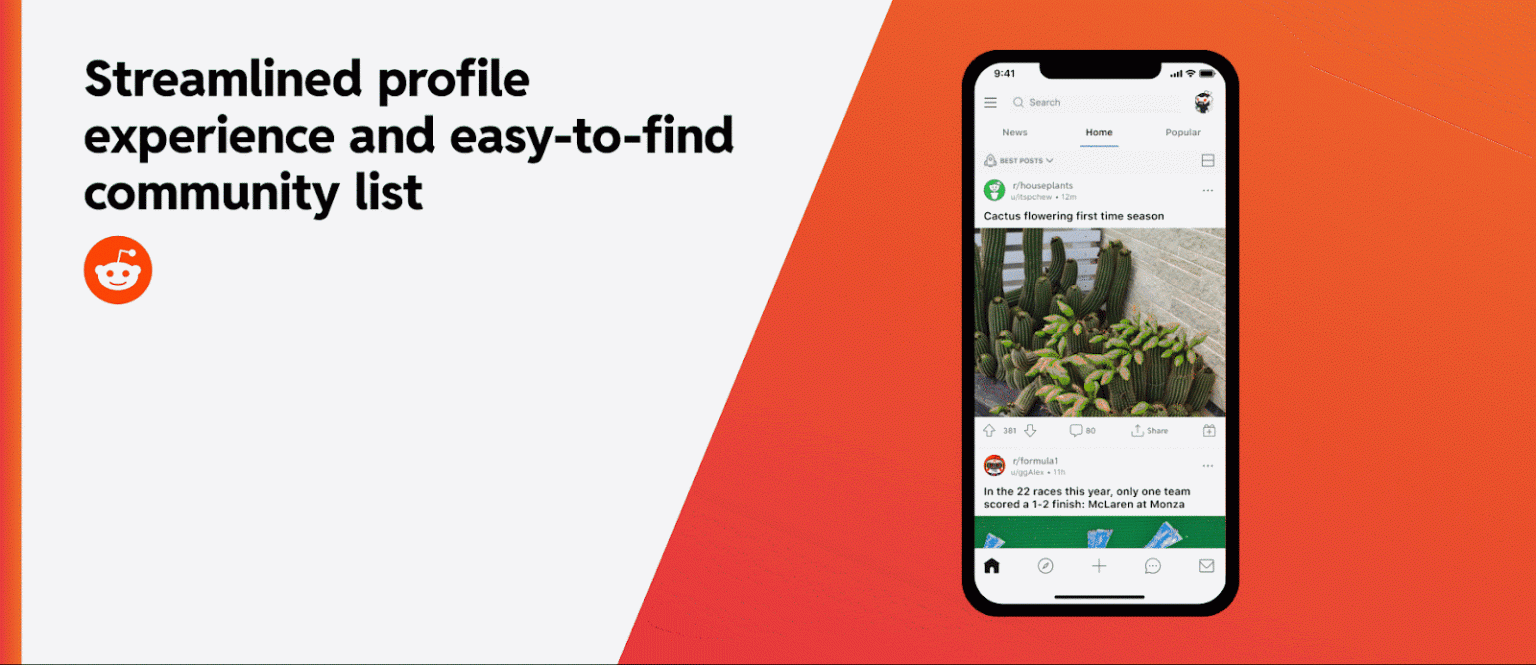 To learn more about Discover Tab and Profile and Community Drawers, visit Reddit's Help Center.