The Aspera R9 smartphone is built tough with a waterproof and dustproof case so it's perfect for tradies and outdoor workers who need a tough drop-proof case. But if you're the kind of person who's sometimes a bit careless and often accidentally dropping your phone – then this smartphone could be for you.
The phone is so tough it has the highest IP69 rating which means it can withstand being blasted by a high-pressure hot steam jet and being dropped into two meters of water for 30 minutes!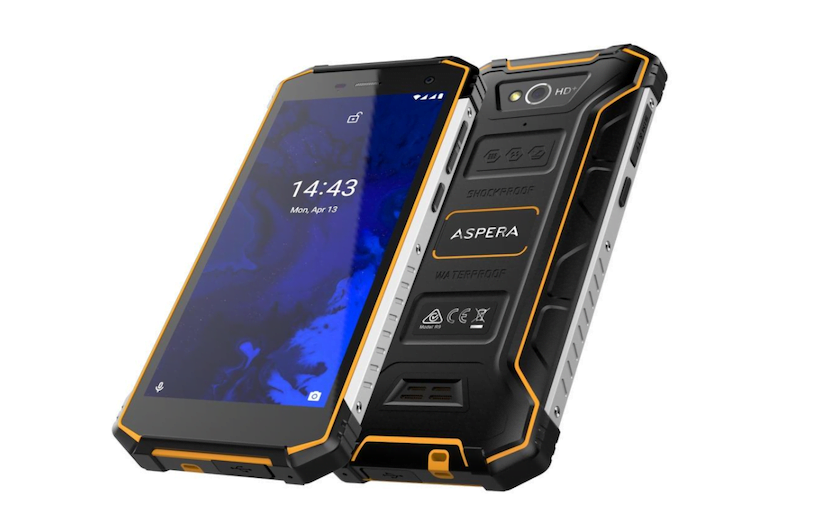 Here are some of the Aspera R9 smartphone features:
Waterproof and dustproof cover
Tempered glass display
4G dual sim (perfect for business and home phone numbers)
3GB RAM + 32GB ROM
5.45 inch high definition (HD)+ display
Quad-core 2GHz
13MP rear camera, and 5MP front camera
Face recognition
5000mAh lithium-polymer Battery
12GB Max
The box contains a User Manual, charger, headphones and warranty card.
The phone feels a little weighty in my hand – but it looks indestructible. It comes enclosed in a hard case so you don't need to buy one. The design is on-trend with an orange detail highlight and aluminum side panels.
The phone steps you through the set up – you can copy over your apps, photos, contacts, Google Account and more via a backup in the cloud, or an iPhone device.
As Aspera Mobile MD, Allan Roberston, says: "The R9 has you covered for working in tough environments. Facial recognition makes using the phone easy in tricky situations but if you get it a bit dirty or muddy it's no problem as you just hose it down and dry it off.
"The R9 is unlocked so you can connect to any plan on any network, has dual sim functionality and its 5.45" HD+ resolution screen provides excellent viewing for videos and images."
The smartphone runs on the Android 10 operating system and a modern Mediatek Helio A22 2GHz quad-core processor.
The Aspera R9 mobile phone looks like an ideal addition to any tradies' toolkit – but anyone who's sick of their phone being scratched and looking messy will also appreciate the toughness of this phone.
For more information on the Aspera R9 Mobile Phone visit here.
About Aspera Mobile
Aspera Mobile is an Australian brand and company, with a product range including smart phones, easy phones and rugged phones. Aspera mobiles work on all Australian and New Zealand mobile networks.
Aspera rugged phones are for mobile users who need a high level of protection for their device due to their workplace or active life. Constructed with durability in mind all Aspera rugged devices have a minimum Ingress Protection (IP) 67 rating against the effects of non-corrosive liquids and dust particles. www.asperamobile.com