I have had quite a few wired earbuds in my time, ranging from Bose, Bang and Olufsen, Apple, and Shure.
The Packaging Standard was good as you would expect for a premium product.
First impressions are good, they are very light (4g without the cable) and quality exudes from the 2.5mm connector all the way through with the cable and buds themselves.
There is a premium feel to the use of materials and the aesthetics are good, hence the price of $479.95.
Sennheiser says every component inside the in-ear headphones has been carefully tuned to produce optimal performance.
The package also has the inclusion of a handy Bud cleaning tool, memory foam and silicone ear tips (three sizes of each are provided), with the availability of optional balanced (2.5mm or 4.4mm) cables.
The cable length that comes standard in the package for the Earbuds is 1.25M.
The cables can be disconnected from the earbuds themselves.
It took a little bit of fiddling and checking with the instructions to get the fitting of them correctly, once done then it was easy to put them on and take them off.
They are really good at staying in place as the bendable ear frames bend and stay in position very well and as they are so light you can wear them for extended periods of time, even with a lot of movement and sweat they stayed in place.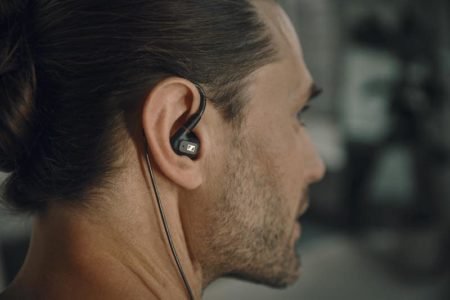 What do the Sennheiser IE 300s sound like?
I listened to various types of music from Jazz, Opera, Rock, country and pop to get a good idea of how the buds would perform.
They were very good as you would expect from a well-known audio company.
The bass was impressive, not too heavy and distorted.
The low and mid, holds the sound together well, while the treble and high is adequate but not as good as the Bass, low and Mid sounds.
Overall they are one of the top earbuds I have tested, with perhaps the Shure Aonic 3 as its main competitor in sound.
Women Love Tech would like to thank Andy Cochrane for his review of the Sennheiser IE 300 earbuds