Spotify is about introduce new features that will help you create personalized playlists that no one else will have – just you.
The popular streaming giant, which first launched in 2006, is now bringing out its latest feature called Only You, which will enrich Spotify's 365 million global listeners with an improved and more personally curated listening experience.
"The algorithm is a powerful tool in personalization," explains Alicia Sburgnera, head of music culture and editorial for Spotify AUNZ.  "These playlists begin with human curation and are then individualized algorithmically so that no two playlists are the same."
Your personal curation of music begins with Spotify's new 'Audio Birth Chart', made up of three cosmic signs – Sun, Moon and Rising.  The Sun sign is the artist a listener has played the most over the last six months.  The Moon sign is the artist that best represents the listener's emotional side. The Rising sign is an artist which has recently been discovered by the listener.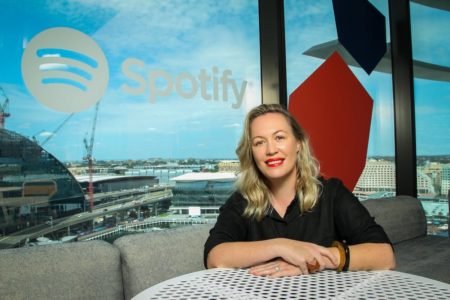 To widen the experience and help listeners not only learn about their own music habits, but also present them with new choices, listeners are also asked to pick three artists they would like to invite to the ultimate dinner party. After they've made their selections, the app then creates a personalized playlist for each artist to set the mood for that dinner party. There are several other features to the app.   Your Time of Day tells the listener what music and podcasts they have listened to when they get up in the morning, and when they go to bed.  Your Artist Pairs demonstrates to the listener which songs they have typically played back to back.   Blend, which remains in development, will give listeners the chance to combine their musical preferences with a friend so that they can enjoy each other's choices.
Spotify gained popularity for its introduction of its Wrapped feature, starting in 2015, when it began giving its listeners an annual wrap up of the most played artists and tracks for the year.  That feature has not gone away. The 2021 version of Wrapped is still to come later this year.  Only You is an extension of that idea, but made more personal, and the company hopes this new feature will attract more Spotify users in the same way
More Info about Spotify's New Features
The in-app experience will take a deep dive and help users discover their:
Audio Birth Chart: Brought to life through the artists they listen to

Sun: the top artist they've listened to over the last six months
Moon: an artist they listen to that best shows their emotional or vulnerable side
Rising: an artist they've recently connected with

Dream Dinner Party: The three artists they'd invite to the dinner party of your dreams. Once selected, Spotify will create a personalised Spotify Mix for each artist to set the mood.
Artist Pairs: The unique audio pairings that they've listened to recently, showing your range of listening interests.
Song Year: How they've musically traveled through different time periods.
Time of Day: The music and podcast content they listen to either early in the morning or late at night.
Genres/Topics: How music and podcast genres set them apart based on their listening habits.