Samsung recently announced its return to the laptop/PC world with the new Galaxy Book S – a powerful, fashionable and portable blending of the smartphone and laptop.
The Galaxy Book S comes as next addition to Samsung's popular Notebook lineup but it seems that this release will demonstrate heightened ambition on their part. Women Love Tech got to experience it hands-on and here's what we thought.
First Impressions Count
Our initial thoughts when given time to play around with the Galaxy Book S was
1) how light it is
2) how slick the hardware looked and feels
3) how smoothly it runs
If you had your eyes closed and you picked up the Galaxy Book S, you'd struggle to believe it was a laptop; that's how light it feels. At just 960 grams, Samsung's "game-changing mobile computing device" weighs less than a litre of water – just think about that for a second. My 2014 model laptop felt like I was carrying a stone in comparison.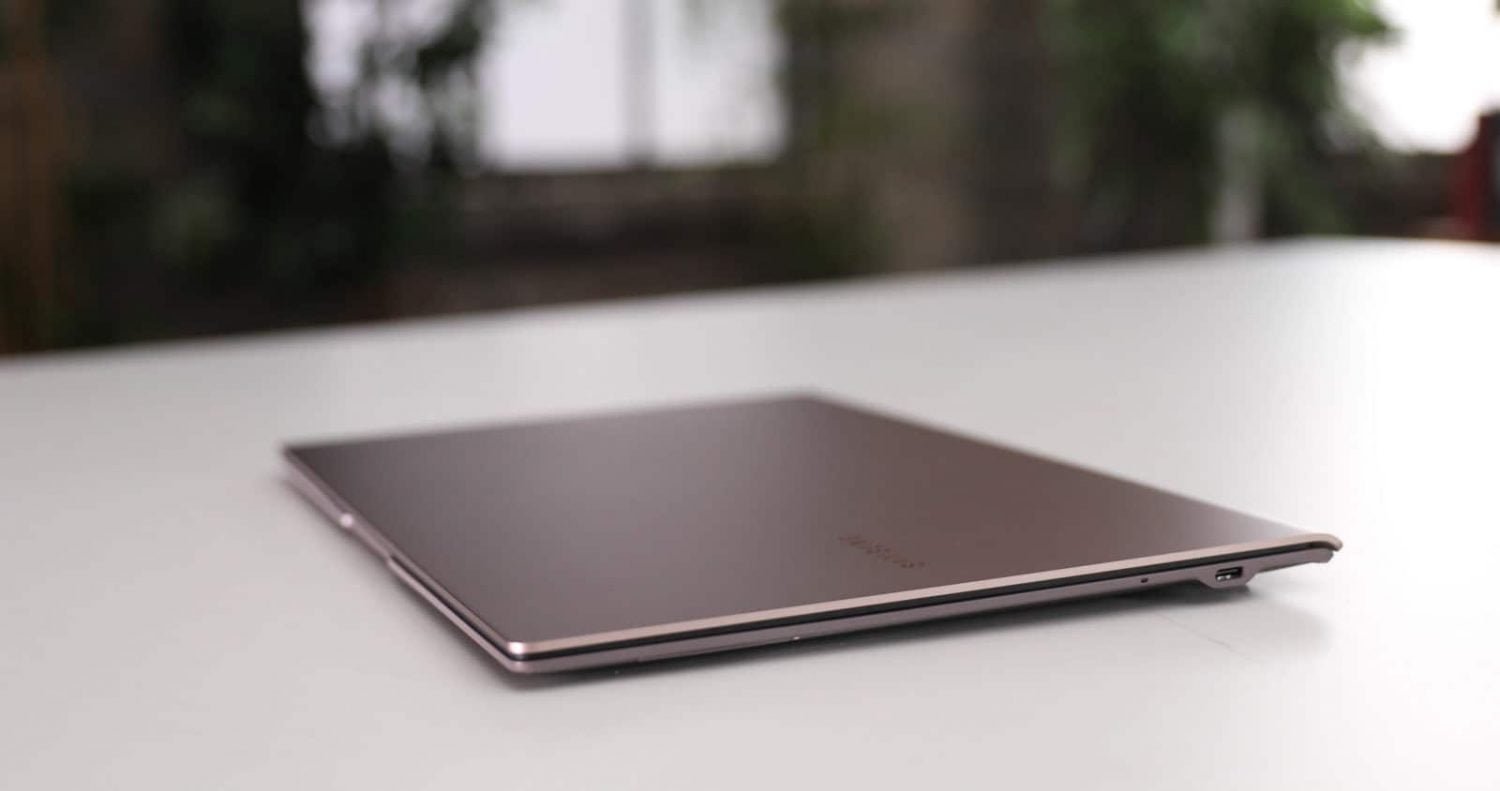 Of course, the laptop is so much more than just its smooth exterior and lightweight feel, but it certainly plays a big part. Opening it up, you can see straight away that it is indeed an always-on display, so it doesn't require the long and frankly frustrating boosting up. Being powered by the reliable Windows 10 and Snapdragon 8cx compute platform; the world's first 7 nanometer PC platform created for mobile computing by Qualcomm Technologies, the difference is obvious. Compare the performance of this laptop to the Galaxy Book 2 and you won't be surprised to know that the S's CPU performance is 40% greater, with 80% greater graphics and added memory bandwidth. The screen produces extremely sharp images and text, high video quality, and seamless playback.
What stands out as THE major addition to this laptop is the LTE connectivity – a feature that will let you add a sim card into the bottom of the laptop so that you can be connected anywhere and everywhere without relying on WiFi. The display itself is not massive but is by no means small. At 13.3 inches, you'll be more than able to enjoy movies, play games and do some work.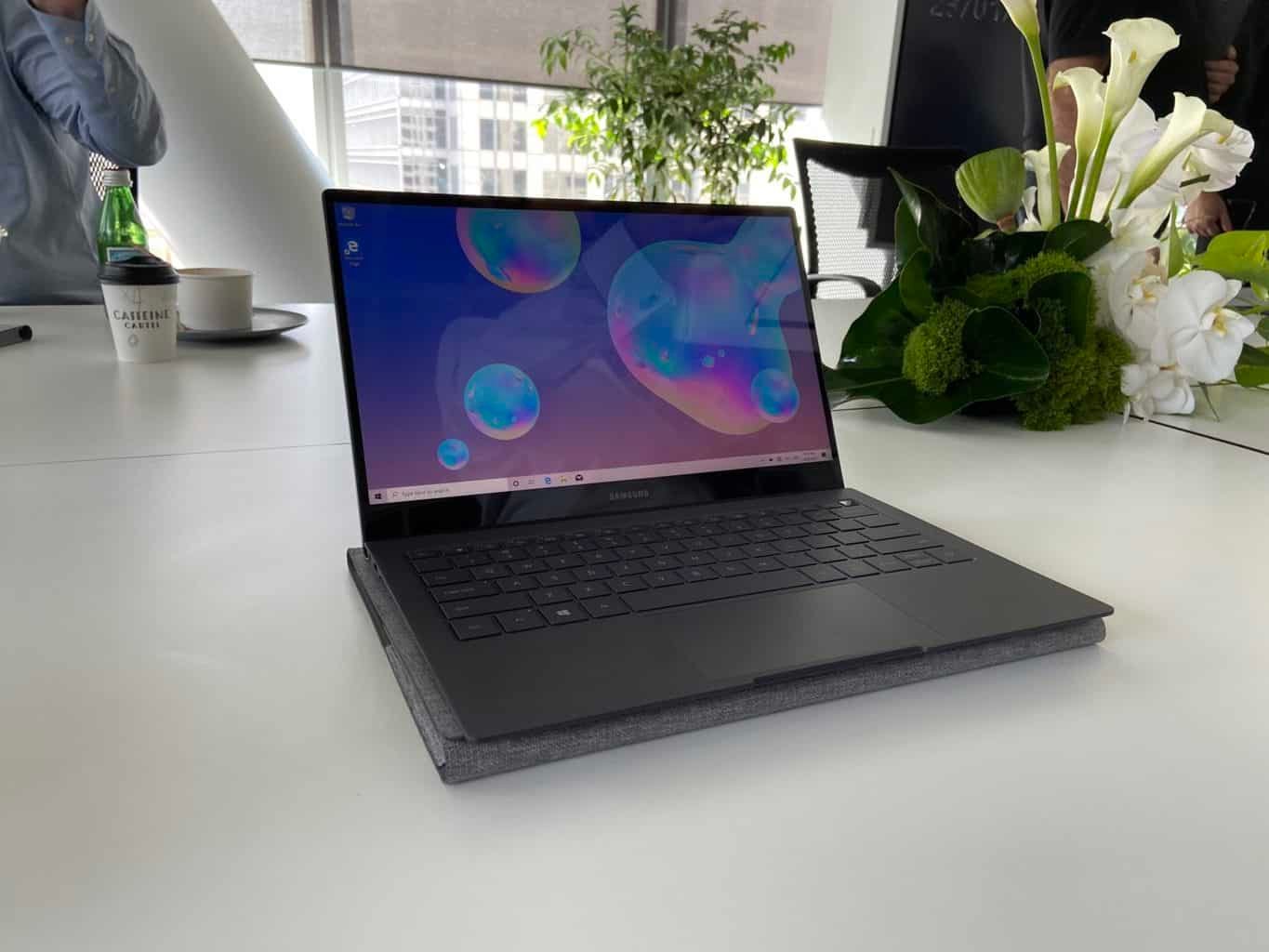 All of this sounds great but an area of concern for all of us remains: "How will this high-performance affect its battery life?". Thankfully, it barely does. Steve Mollenkopf, CEO of Qualcomm Incorporated said that they "refused to compromise peak performance for battery life and instead combined the two to create a powerful device experience…" a statement that is reflected in the Galaxy Book S's enormous 25 hours of battery life obtained from one single charge.
It genuinely is convenience personified.
No one wants to walk into a conference room and look for a powerpoint straight away out of fear of your laptop dying. You no longer need to be tethered to your charger. And even if you do find yourself in need of a quick charge, the ports are type-C, yes, the same ones as the android smartphones meaning you also have fast-charging. Bring one small, light charger in your bag to charge up both your smartphone and your laptop – gone are the days of the heavy box tangled in metres of cords.
It was also handy to have the 10-point multi-touchscreen to switch from the touchpad to the screen at any given moment.
Final Word
Staying connected in the digital environment that we live in is crucial and the Galaxy Book S is in many ways the perfect return into the PC market. A light, smooth-designed laptop that is perfect for travelling. It's easy on the eyes, satisfying to use from the light tap of the keyboard to the touch screen functionality. It's an exciting release and certainly a look into what the future holds for the PC world.
The Samsung Galaxy Book S will be available from the 31st of January 2020 for $1699 at Harvey Norman, JB HiFi and the Samsung store.