When Sophie Walker started Australian Birth Stories in 2015, podcasting was in its infancy. Here she tells us what she wishes she knew when she started.
The birth of my first son was traumatic. Forget tealight candles and deep breathing. It was an exhausting labour totalling over 35 hours, a series of invasive medical interventions and a postpartum haemorrhage. Beyond the physical injuries, and significant mental trauma, I never quite got over how underprepared I was for the birthing process.
So when it was time for round two, I armed myself with information, got prepared and ended up leaving the hospital feeling empowered and uplifted, with my beautiful baby boy in tow. With research showing that birthing education is the cornerstone of positive birthing experiences, I wanted to connect and share with other soon-to-be mums who may have been feeling unsure and out of their depth.
The easiest way to do this was through a podcast. So I started Australian Birth Stories.
Each week I interview a different mum (and the odd dad) on their birthing experience. Over the years we've covered just about every type of birth under the sun, interviewed well-known Australian mums such as Turia Pitt and Zoe Foster-Blake and have had over 11 million downloads.
I'd be lying if I said it had all been smooth sailing. Here are my biggest tips for anyone thinking of stepping up to the (podcast) mic.
Everything begins and ends with your vision
Truthfully? The world probably doesn't need another podcast. There's over 2.5 million podcasts globally. For your podcast to stand out from the crowd you need to get clear on what you're trying to achieve and have a strong vision.
Australian Birth Stories has been in the top five in the Kids & Family charts for over six years and currently has 3,800 5-star reviews. This is because I am militant about the podcast's purpose. It exists to improve maternal health outcomes through storytelling. As a result, my audience knows exactly what to expect when they tune in every week.
Has this resulted in losing listeners that don't agree with my approach? Probably. But remember, in trying to appeal to everyone, you'll appeal to no one.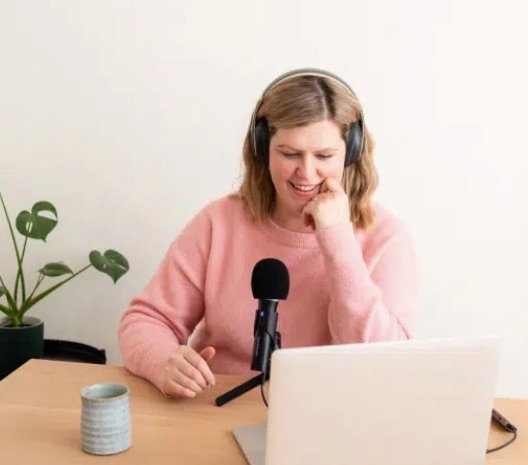 Invest, invest, invest…in your own growth
Pressing publish on your latest episode is only the start of the podcasting journey. If you want to level up your podcast, treat it like a business and look for ways to turn it into a fully-fledged media operation. This means upskilling in areas outside of your expertise.
Do you know how to effectively market your podcast?
Are you across the finances of your operation?
How can you capitalise on your success by branching out into other revenue streams?
Get fearless in your appetite to improve. I'm a self confessed online course junkie. Over the past seven years, I've invested five-figures on upskilling in areas from online course creation and podcast growth, to affiliate and email marketing courses.
This approach has helped me land six-figure brand partnerships, create a range of online courses to support women through their pregnancy and postpartum experience, and secure a book deal that was released in January 2023. It's also helped my podcast get endorsed by the Australian College of Midwives. Listening to Australian Birth Stories now counts as certified professional development for Australian midwives.
Get creative with your podcast promotion
I was lucky to launch when Meta's platforms were a little kinder to content creators. These days it's a pay-to-play platform and constant algorithm changes can leave your head spinning.
I've also become an expert in navigating Meta's community guidelines when I share birthing related imagery (It's infuriating that suggestive images of women in swimsuits and lingerie are deemed appropriate for the platform but tasteful and non-confrontational birthing images are not).
In other words, don't rely purely on social media to promote your podcast.
Instead, dedicate time to building your email database. Not only will this build trust with your audience by offering content that's helpful and relevant, it will become invaluable should you expand your offering beyond your podcast.
And choose your guests wisely. I've reached out to influencers and high-profile guests and was pleasantly surprised to find they were happy to share their experiences on the podcast. Due to their online reach, when they shared the episode with their community, my podcast reaped the benefits. These days approximately 20% of my guests are well-known which serves to highlight the universal experience of giving birth.
Podcasting takes tenacity and hard work but the opportunity to build relationships with your community makes it all worth it. I receive emails every day from women who feel educated and empowered walking into the delivery suite after listening to Australian Birth Stories. If you have a unique point of view and are dedicated to your audience, I'd encourage you to go for it.
What podcasts does a podcaster tune into?
I'm an avid podcast listener. It's where I get most of my inspiration on how to produce my shows and ideas on different interview techniques.
While I started by consuming podcasts within the parenting space, these days I get my main inspo from business podcasts.