There are some great new wellbeing audiobooks and podcasts out this year – covering everything from rebooting finances, healthy eating, relationships, self-development titles – even taming your inner critic and yes, letting go of pressure.
The start of a new year is always the prime time for setting new goals, committing to resolutions and planning personal transformations — and if you take a look at what's available from Audible you'll find there's something for everyone.
Titles include new releases from David Goggins with Never Finished and Michelle Obama with The Light We Carry. Plus, there are four NEW goop Pursuit titles which have just launched, featuring Gwyneth Paltrow, on topics such as embracing change, leaning into pleasure and healing trauma.
Recent research, commissioned by Audible (Audible Compass Survey) shows a growing trend toward wellbeing and self-development audio content in Australia – and the benefits for listeners. Here's a few stats:
The 'personal development' podcast genre is Australians' third-favourite genre, behind true crime and comedy.
59% of Australians say audiobooks help them to relax and switch off from worries and challenges.
48% of Australians listen to audio content at home to relax.
Here's a list of 20 audiobooks or podcasts that could work well for all those New Year's resolutions we've all made. Check them out:
The goop Pursuit: Leaning into Pleasure by Penda N'diaye (Audible Original)
After her conversation with Gwyneth Paltrow, Penda N'diaye (founder of Pro Hoe, a brand that focuses on sexual liberation in Black and Brown communities) speaks with three women of different ages about being "detectives of their own pleasure". How do we experience pleasure? Why can satisfying sex be difficult to come by? How do we open up to exploring and expressing our desires? What can we look forward to along the way?
The goop Pursuit: Healing in a Sick Society by Will Siu MD (Audible Original)
Psychiatrist Will Siu, MD shares his personal story on healing trauma and what he's learned from the existing research, his patients, and two foundational experts and personal mentors. You can hear Siu's conversation with Rick Doblin, founder and executive director of the Multidisciplinary Association for Psychedelic Studies, and Siu's interview with well-known physician and thinker Gabor Maté, MD. See why Siu now takes a holistic and more human approach to healing, connecting, and expanding.
The goop Pursuit: Coming Home to Yourself by Dr. Therma Bryant PhD (Audible Original)
Psychologist and president-elect of the American Psychological Association Dr. Thema Bryant, PhD speaks with two women in the midst of major life transitions. Together, they explore how to move through difficult periods with compassion and grace and how to embrace change, big or small.
The goop Pursuit: Finding Beauty by Jodie Patterson (Audible Original)
Author, LGBTQAI activist, and beauty maven Jodie Patterson explores beauty through intimate interviews with her personal 'collage of women'—those friends, mentors, and public figures from whom she draws inspiration and confidence. This includes transgender rights activist Raquel Willis, trailblazing model and fashion matriarch Bethann Hardison, and American fashion designer Clare Vivier.
8 Step Confidence Crash Course by Domonique Bertolucci (Audible Original)
Boost your confidence and nurture your self-belief with best-selling author, happiness expert and life coach Domonique Bertoloucci. The 8 Step Confidence Crash Course is an empowering series which will guide you through eight simple steps to help you start feeling good about yourself, and your life, today.
Tame Your Inner Critic by Clare Bowditch (Audible Original)
Using her experience as a storyteller, broadcaster, and (undercover) life-coach, Clare Bowditch collaborates with neuroscientist Dr Charlotte Keating to detail useful Cognitive Behavioural Therapy concepts that will help you tame your inner critic. With Clare's trademark humour and intimate storytelling style, Tame Your Inner Critic will teach you the skills to retrain your brain and achieve your big, fat dreams
Good Great Perfect by Dr. Rebecca Ray (Audible Original)
Good, Great, Perfect will help you let go of the pressure to constantly be, have, and do more, but still achieve your goals. Dr Rebecca Ray, writer, speaker and clinical psychologist, has created a motivational and practical step-by-step guide for creating a great life by embracing good enough.
Mindfull: What to Eat for a Better Brain by Dr. Joanna McMillan (Audible Original)
We know that what and how we eat is important. We also know that our brain performance impacts our overall health, our mood, our risk of anxiety and depression and our risk of cognitive decline and dementia as we age. So what diet and nutrition fuels the best brain performance? Dr Joanna McMillan cuts through the nonsense.
How To Release Anxiety by Gabrielle Bernstein (Audible Original)
This 90-minute Audible Original is a helpful, speedy remedy for the anxiety so omnipresent in our lives. Full of relatable, personal examples—Gabby is all-too human, too!—How to Release Anxiety provides a welcoming, user-friendly approach to our all-too common, completely unproductive reaction to stress.
Can't Hurt Me by David Goggins (Audible Exclusive)
In this awe-inspiring story, Goggins shares how he learned to overcome the obstacles in his life to reach his full potential.
The Barefoot Investor, Revised and Updated Edition by Scott Page (Audible Exclusive)
Whether you're looking to save up enough money to put down a deposit on a house or find a financial adviser who's actually trustworthy, it's safe to say that achieving financial objectives can feel like an insurmountable challenge. But with the guidance of Scott Pape, The Barefoot Investor himself, your most ambitious money goals can become a reality.
Love This For You by Deni Todorovic (Audible Exclusive)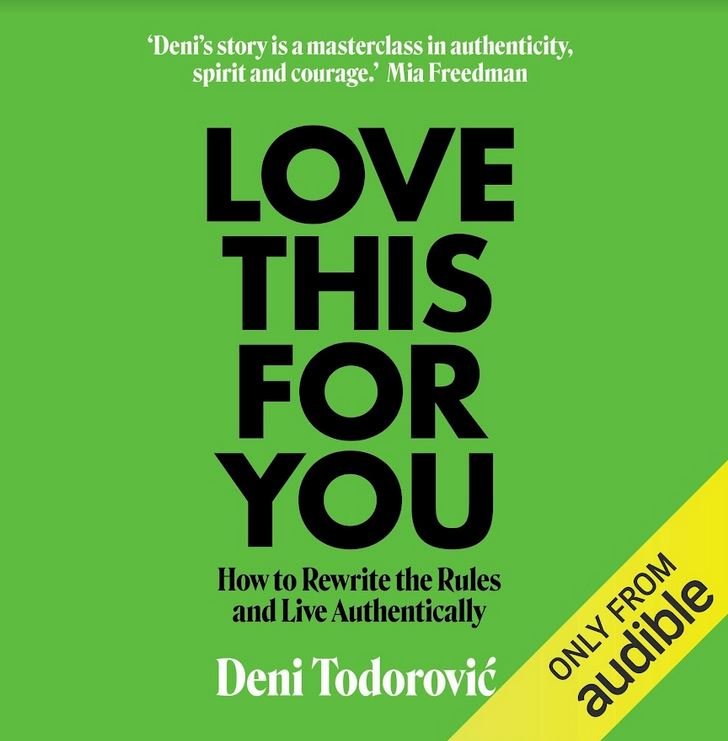 A guidebook to being your best, most authentic self, from Instagram sensation Deni Todorović aka Style by Deni.
Monsters and How to Tame Them by Kevin Hart (Audible Original)
You've seen Kevin Hart rule the stand-up circuit. You've watched him take over Hollywood. You've even seen him slay the New York Times best seller list. Now he's going to help you own your monsters.
The Light We Carry by Michelle Obama
The powerful, inspiring follow-up to the critically acclaimed, multi-million #1 bestselling memoir Becoming.
Atomic Habits by James Clear
An Easy and Proven Way to Build Good Habits and Break Bad Ones.
Why Has No One Told Me This Before by Dr. Julie Smith
Drawing on years of experience as a clinical psychologist, online sensation Dr Julie Smith shares all the skills you need to get through life's ups and downs.
The Resilience Project by Hugh Van Cuylenburg
In The Resilience Project, a teacher shares the life-changing lessons he learned from his underprivileged students — including the three keys to happiness.
How to Be Confident by James Smith
From two-times number one Sunday Times best-selling author James Smith comes How to Be Confident – the third instalment in James' no-nonsense guides to gaining the tools to empower your decision-making and change your life.
8 Rules Of Love by Jay Shetty
The author of the #1 New York Times bestseller Think Like a Monk offers a revelatory guide to every stage of romance, drawing on ancient wisdom and new science.
Never Finished by David Goggins
This is not a self-help book. It's a wake-up call!
For more from Women Love Tech on the latest audiobooks and podcasts, visit here.