The winners of the 2021 Australian Podcast Awards, powered by Acast, were announced at an event hosted by comedic duo Susie Youssef and Harley Breen, celebrating the best podcasts of the year across 29 different categories. 
The ceremony celebrated the who's who and what's what of podcasting – from Best True Crime to Best Comedy and Best Sex & Relationship podcasts.
Life Uncut, took home the Listeners' Choice Award for the second year in a row, while romantic fiction podcast, Private Affairs, took home Podcast of the Year. Former Prime Minister Julia Gillard's A Podcast of One's Own was awarded the coveted Spotlight Award, whereas The Nurse took home the award for True Crime podcast.
 "Australia continues to lead the way when it comes to amazing podcast content that entertains, informs and even inspires," said Matt Deegan, Director at the Australian Podcast Awards.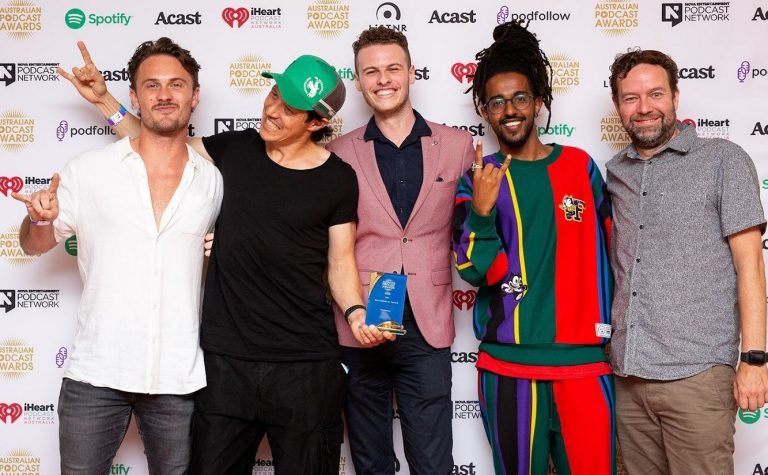 Other winners included Dan Illic picking up Best Comedy for A Rational Fear, radio host Christian O'Connell won Best Entertainment Podcast for his show Stuff of Legends whilst Mastermind and The School That Tried to End Racism presenter Marc Fennel, won Best Creativity for his podcast Stuff the British Stole. After grabbing the silver award last year, Shoes Off which chronicles Asian Australian culture, bagged the gold for Smartest Podcast.
Over 90 judges listened to nearly 1,000 submissions to find these winners, and over 40,000 Australians voted in this year's Listeners' Choice poll, supported by LiSTNR.
Caption for photo at top of story: Brittany Hockley (wearing black) and Laura Byrne (wearing linen) with their producer Keeshia Pettit. They're the hosts of Life Uncut, Winner of the Listener's Choice Award. 
Full List of Winners
| | |
| --- | --- |
| Best Fiction Podcast | Private Affairs |
| Smartest Podcast | Shoes Off |
| Best Arts & Culture Podcast | The Culture |
| Best Wellbeing Podcast | Get Psyched |
| Best Comedy Podcast | A Rational Fear |
| Best Business Podcast | Propagate |
| Acast Moment Of The Year | The Nurse |
| Best Sex & Relationships Podcast | Cntroversy |
| Best Branded Content Podcast | Project ARI |
| Best Radio Podcast | Triple M's Rush Hour with JB & Billy |
| Best Publisher or Network | DM Podcasts |
| Best Sport Podcast | Football Belongs |
| Best Current Affairs Podcast | Temporary |
| Best Lockdown Podcast | Linda Marigliano's Tough Love |
| Best True Crime Podcast | The Nurse |
| Beat Entertainment Podcast | Stuff of Legends |
| Best Family Podcast | At Home With Brie |
| Best Interview | Bad Behavior |
| Best Documentary Podcast | The Sure Thing |
| Best New Podcast | Goodbye to All This |
| Best Indigenous Podcast | Brooke & Linda's Dream Club |
| Spotlight Award | A Podcast of One's Own with Julia Gillard |
| Bullseye Award | Empowerhouse |
| Best Creativity | Stuff The British Stole |
| Spotify Rising Star | Amelia Christo, StoryKids |
| Best Commercial Campaign | Jacob's Creek – Finished Differently |
| Best Sales House | Mamamia |
| Listeners Choice | Life Uncut |
| Acast Podcast Of The Year | Private Affairs |
For more info on the Australian Podcast Awards, visit here.
About the Australian Podcast Awards: The Australian Podcast Awards is an annual celebration of the quality and breadth of Australian podcast content. Entries are self-nominated, and over 20 categories are judged by a panel of experts selected from across the podcast industry, alongside a public vote – the Listeners' Choice. Entries come from independent podcasters, broadcasters, the business community as well as students and non-profit organisations.
For more from Women Love Tech on podcasts, visit here.