Tory Archbold is building a network of incredible women through her Powerful Steps programme. Here, we talk to one of those women – the inspiring Alex Fevola, CEO and Founder of Runway Room.
Alex Fevola founded Runway Room in 2012, and it has since been a big success. Using quality Australian Made products, the mission of Alex's brand is to offer affordable luxury to every woman. Runway Room originally offered affordable hair and makeup packages for weddings, school formals and special events. Now, the brand has continued its journey by developing a clean, ethical and accessible beauty product range.
Alex shares more about her entrepreneurship journey, why networking has been so important for her brand, and her career advice:
What has been the most constant driver to achieve success over your life? What motivates you?
The need for independence both financially and emotionally and of course my passion for make-up and the creative outlet it gives me. I genuinely love what I do, from performing a make over to product development, I'm obsessed with every part of my job and that's what keeps me motivated and inspired.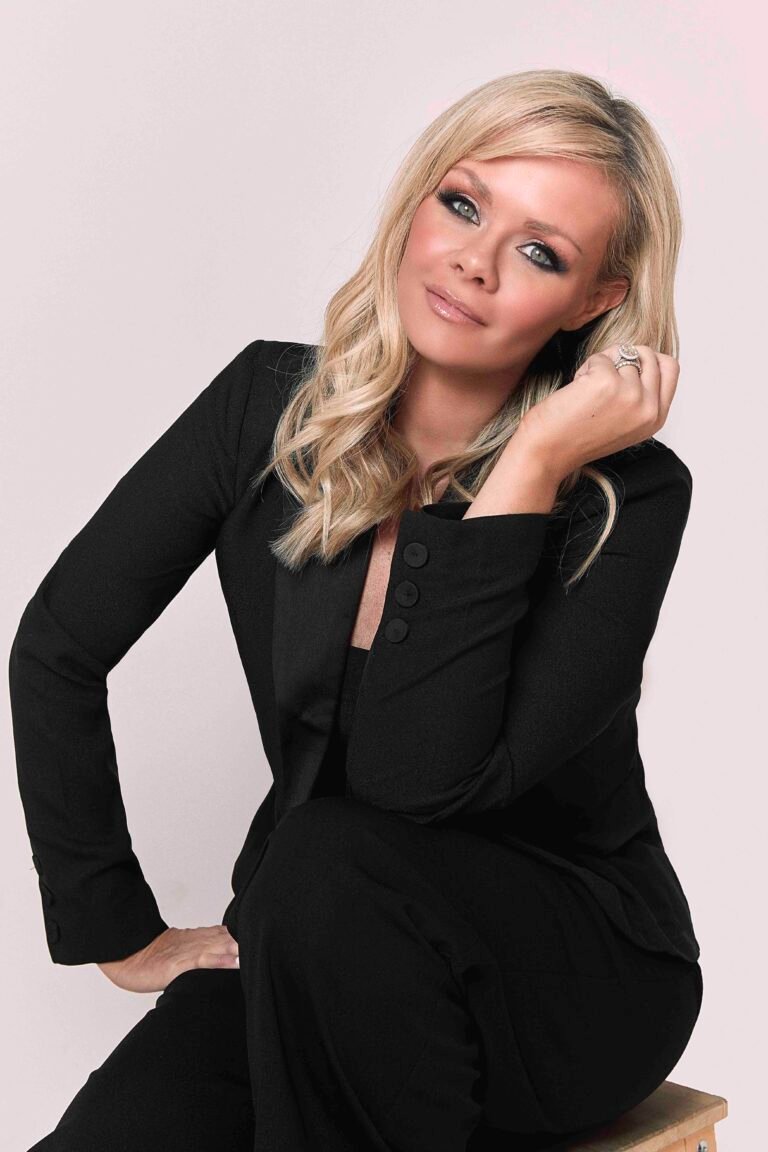 Your story is also one of survival. How did you get through those initial months after losing your partner who was the father to your little girl Mia. How did you put food on the table?
Well it was a very difficult time, I was grieving, I was a brand new mum to a new born baby and I was in recovery from life saving surgery. It was one of the most difficult times of my life but I also feel it was what shaped me into the person I am today. My daughter's father was my partner and fiancé of five years, his death was a huge shock and I was left a single mother with no income. It's that experience that gave me the drive for independence and financial security. Once I got over the initial trauma, I set my sites on starting my own business. I trained in photography briefly before having my baby and was already working as a make-up artist. So the dream of running my own business that allowed me flexible working hours, became my goal. I researched and planned day and night until the day I took my first booking. In hindsight, I now know that business was the foundation of Runway Room.
You are celebrating ten years of Runway Room. What was the journey from a creative/a photographer to a successful businesswoman like? Were you always entrepreneurial?
Yes, I feel that I have always been entrepreneurial. Always dreaming up ways to make money, business ideas, lots of ambitious goals, from being very young. At the age of 16, I was giving horse riding lessons in my spare time. At 18, I started a house cleaning business to make extra income whilst I was modelling. I always knew deep down, that I wanted to build an empire one day. It has always been in me, even when my world was torn apart and in the midst of grief, I still felt that burning desire to be independent and successful. Becoming a single mother only intensified that.
Your story really is one of transforming your dreams into a reality by using all your skills and crafting a business from that. What's your advice to other woman who hold big, bold dreams?
To choose something you are truly passionate about. Be prepared to work harder and longer than you ever have before. Be prepared to take risks. Most of all believe in yourself, you will face many rejections along the way. It's how you learn from them, that's important. Don't be discouraged by rejection, learn from it, change course if necessary and keep moving! Most of all, keep moving towards your goal no matter what! It can be a windy path but don't lose sight of your 'why'. Be authentic always, if your passion is genuine, the world is your oyster!
What fears did you most have to overcome to reach your goals and make your life the success it is today?
Fear of failure. Before starting Runway Room I was terrified it would fail because it was going to take every cent I had and it was a huge gamble. The Runway Concept was brand new in Australia, no one was offering hair, make-up and beauty under the one roof every day of the week. Over a decade ago, people would only consider having their make-up done for their wedding. It wasn't a service everyone was using. So the risk was high but I knew if I could make it available and affordable, women would love it. Many people doubted it, saying "If it's such a good idea, why hasn't anyone done it?" This notion did scare me but I still had faith that if done right, it would take off. It did and we became the pioneers of the Luxe Make-over service. A glam team experience once only afforded to the rich and famous now was available to the everyday woman.
Tell us how you are growing Runway Room and the product line you have launched recently?
We have expanded from being predominantly a service based business to a retail and eCommerce business. The surge in popularity of our products has lead us to further development of that arm of the business. My passion for developing premium Australian Made Products has only grown every year. The more our customer base grows, the more I want to offer them. We plan to further grow our distribution both nationally and Internationally with our partnership with QVC. We launch on QVC London in July this year. We are also currently looking at potential retail partners within Australia.
What is the best thing that your clients can say to you in order to make you feel Runway Room really makes a difference?
The messages I receive from women all over Australia telling me how my products have changed the way they feel about themselves. The way it makes them feel, having confidence in themselves in how they look but also how they feel. Our products are designed to be uncomplicated and not overwhelming. Our free education and constant content has given so many women a better understanding of make-up application. Our products have a focus on ease of application making beauty accessible for everyone, even the not so make-up savvy! This is what makes me feel extremely proud of our brand and our culture. Our customers feel welcomed and part of a community. Our team is relatable and friendly and able to offer valuable advice. It's not just about sales for us, it's about the entire experience for our customers. Most of all, I love hearing from happy customers who tell me they have never had so many compliments on their skin since switching to Runway Products!
How important is your connection with your client base?
It's the single most important thing. I read every message, every customer enquiry and every review. I also engage with all of our wholesalers regularly. I still work on the floor in our stores to stay in touch with our customers face to face. I believe this unofficial market research has been my superpower over the years. It's given me the greatest insight as a Brand Founder and creator. I get direct feedback from my customers and from my fellow make-up artists I work on the floor with. It's the greatest insight you can get as a business owner.
You appeared on Tory Archbold's Powerful Steps podcast. How has Tory helped your business? What have you learned about the power of networking?
Meeting Tory has opened up a whole new network to me. I have just loved being a part of the Powerful Steps community. Networking with other women in business has been both inspiring and rewarding for many reasons. Tory has introduced me to so many incredible contacts already and I've learnt a lot from her in the short time I've known her.
How do you benefit from technology in your business?
So many ways! Most of all, I think social media marketing has been one of our strongest tools. With little to no marketing budget, social media was the best platform for us to share our content and grow our brand. We also rely heavily on tech for our eCommerce business. Data gathered from our Shopify site is so important for us as we grow. Being able to track our EDM success, our order bump sales increase etc. Technology is a part of almost every aspect of my business and we rely heavily on it.
You have published a book. How difficult was it to put your life onto the page? What message did you most want to convey?
It was hard at times and I was scared of sharing it all but my motivation was to hopefully connect with others who may be going through hard times. At the time of my grief, all I wanted was to speak to someone who had been through something similar and for them to tell me it was going to get better. That there would be happiness again. That's why I decided to share my journey. I hope my story inspires people and comforts them in times of darkness. My book became a bestseller before it was even on the shelves. It went on to sell out three print runs, so I feel that many people have connected with my story and it has comforted me to know it has helped others through hard times and it was worth it.
How difficult was it to reveal all the personal things that you have had to overcome? And the grief? How Did your oldest daughter Mia react to reading your book?
It was hard to relive some of the darkest times of my life but it was also therapeutic to write about it. I waited until my daughter Mia, was an adult so she had a full understanding of everything. She was proud of me, sharing my story. She was also relieved to be able to talk about it. It's something we had kept private her entire life and now she has the freedom to talk about it freely.So she was happy our whole story was shared.
You are a mum to children of so many ages – an entrepreneur and wife. How do you juggle it while still being kind to yourself when some things inevitably fall through the cracks?
To be honest, it's not an even balance. I'm ALWAYS working but I'm lucky enough to work from home a lot of the time. So I'm physically present in my kids lives as much as possible and that is a blessing. Things do slip through the cracks, such as cooking!! We order way too much Uber eats! Overall, we work as a team, Brendan picks up the slack when Im super busy and vice versa, It's always a juggle but its all amazing. I feel grateful on a daily basis to be doing a job I love so much and to be able to also be a mum. It's never taken for granted and I know how lucky I am.
If I were to speak to you in 12 months, what would you like to say to me about where your personal and professional life is?
Well I hope to be sharing with you, our huge success in the UK! Also our continued growth locally. I would love to be telling you about all of our exciting new products and celebrating another year of growth.