Because we're often on the go more these days, the seventh generation of Yoga Slim laptops are designed to be more portable than ever before with an adjustable screen hinge and the high-powered visuals of Lenovo's PureSight Display. They also feature more power and have the new LenovoSmart Lock Service which adds an extra layer of protection so you can locate, lock and delete data more easily.
The new Yoga Slim laptop line includes:
The flagship 14-inch Yoga Slim 9i (known as Lenovo Slim 9i in the US) is a carbon neutral certified laptop which offers high productivity and portable entertainment.
The Yoga Slim 7i Pro X and Yoga Slim 7 Pro X (known as Lenovo Slim 7i Pro X and Lenovo Slim 7 Pro X in the US), fueled by Lenovo X Power which enables creation anywhere, anytime.
The Yoga Slim 7i Carbon (known as Lenovo Slim 7i Carbon in the US) which offers high mobility.
The new Yoga line also offers refreshes of the 14-inch and 16-inch Yoga Slim 7 Pro (known as Lenovo Slim 7 in the US), the Yoga Slim 7i Pro (known as the Lenovo Slim 7i in the US),and the Yoga 7.
To meet the needs of the new hybrid home office, Lenovo has also released the new Yoga AIO 7 – a new 4K 27-inch desktop PC which features an ergonomic hinge for loads of adaptability and collaboration across multiple devices.
Lenovo's vice president and general manager of the Consumer Business Segment, Intelligent Devices Group, Ouyang Jun, says: "Hybrid life is the new norm that's inspired the development of this new generation of Lenovo Yoga devices. Our goal is to empower more people to 'just be you' – to consume, create, and collaborate on their own terms."
"We've designed and engineered the new Yoga PCs with smarter features and an even more premium user experience to help people pursue their ambitions, relax, and get things done in their own way," he adds.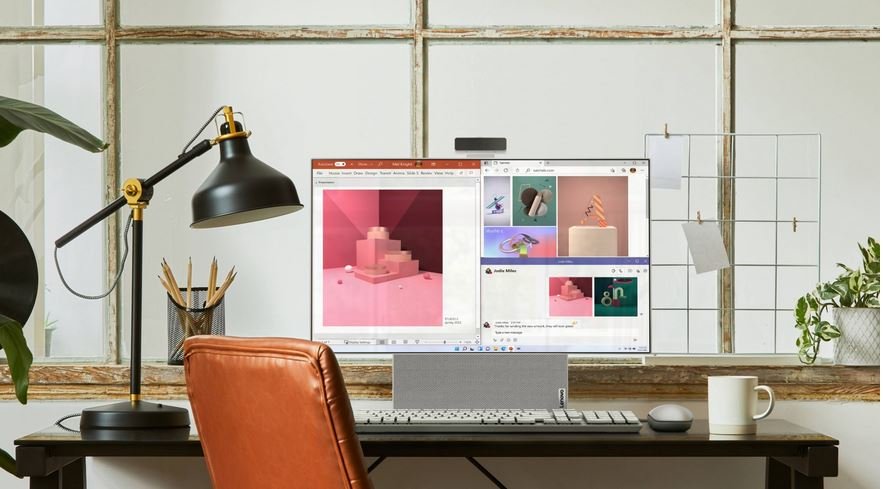 Lenovo says this seventh generation of Lenovo's Yoga 2-in-1 convertible laptops are pioneers in opening possibilities for users to flip and fold from work to play. In today's new hybrid environment, this latest generation of Yoga devices are designed to help people thrive against new challenges and opportunities in the way they connect, consume, create, and collaborate from the home, school, office, and beyond.
Lenovo's new Yoga Slim line laptops are powered by Lenovo's X Power and they have Lenovo's PureSight displays which they say gives users a sharper, more realistic, Eyesafe-certified visual experience.
The Yoga Slim line gives a high-powered performance which is made possible by the Lenovo A.I. Engine+. This A.I. engine+ can anticipate the user's power or battery needs based on what they're doing, while Lenovo Intelligent Sense and Integrated Security – also part of Lenovo A.I. Engine+ – help keep work and play on the Yoga seamless and safer.
Consumers can also attach Lenovo's latest advanced support offering Premium Care Plus for an elevated service experience. This includes personalised hardware and software support from a global network of technicians along with accidental damage protection, sealed battery warranty, smart PC performance solutions, and data migration assistance – adding a level of protection and care to keep users productive even when the unexpected occurs.
For those who would like to help the environment, Lenovo's CO2 Offset Service is a simple way of offsetting carbon emissions, allowing consumers to support one of the United Nations Framework Convention on Climate Change's (UNFCCC) projects.
The Yoga Slim 9i
As a carbon-neutral-certified laptop, the Yoga Slim 9i is ideal for the eco-conscious without compromising on entertainment features and A.I.-powered performance. Encased in 3D glass, the design of the thin and light 14.9mm (0.59 in) chassis features rounded, smooth contours for a more comfortable handling and holding experience.
The Yoga Slim 9i also has a 14-inch 16:10 up-to-4K OLED PureSight touchscreen display, complemented with Sound by Bowers & Wilkins. Lenovo's PureSight visual experience on the optional 4K OLED screen provides sharp detail and photorealistic colors — from deep blacks to vibrant lights. With Vesa Certified Display HDR True Black 500, its depth of 10 bits can display over a billion colors in a single pixel and a full color gamut of 100 percent DCI-P3. The Yoga Slim 9i's four Bowers & Wilkins speakers bring audio to life.
The Yoga Slim 9i lets users tap into a mode of portable performance which adapts to them, powered by Intel Evo featuring 12th Gen Intel Core processors. Powering next-level smarter experiences, the Lenovo A.I. Core 2.0 delivers improved A.I.-enabled performance and smarter security, which includes hardware-level encryption engineered to help protect the device from root and ransomware attacks. And depending on the task at hand and the amount of system load, the A.I. engine can also dynamically adjust fan speed and hardware performance to optimise and accelerate performance.
The Yoga Slim 7i Pro X and Yoga Slim 7 Pro X
The Yoga Slim 7i Pro X (14", 7) and the Yoga Slim 7 Pro X (14", 7) feature up to next-gen processors, up to 32GB of LPDDR5 RAM, up to NVIDIA GeForce RTX 3050 Laptop GPU with NVIDIA Studio validation, and Lenovo's X Power which offers specific tuning for different usage scenarios. At 1.6kg (3.5 lbs), these thin and light machines are built to go anywhere, while packing the pure performance needed for digital content creation.
You can watch the latest show on the 14.5-inch 3K 120Hz refresh Lenovo PureSight display. The laptop has a hardware calibrated 100 per cent sRGB gamut coverage with 100 per cent sRGB gamut volume, as well as TÜV Hardware Blue Light certification to help reduce eye strain.
The Yoga Slim 7i Carbon
For those who embrace hybrid living and the freedom to get things done from their living room to the office, the Yoga Slim 7i Carbon (13", 7) offers mobile performance, matching its lightness at under 1kg (2.2 lbs) and a chassis which is 14.8mm (0.58 in) at its thinnest point. It still has the resilience of aerospace-grade magnesium alloy reinforced with multi-layer carbon fiber.
You can create and binge content virtually anywhere with a Lenovo PureSight 13.3-inch 2.5k optional touchscreen featuring ultra-smooth 90Hz refresh rates and a taller 16:10 aspect ratio. Its Lenovo PureSight display offers an expanded color palette and more accurate, hardware calibrated, hues of 100 percent sRGB colour space and 100 percent colour volume with 8-bit colour, as well as TÜV Hardware Low Blue Light certification made for less eye strain.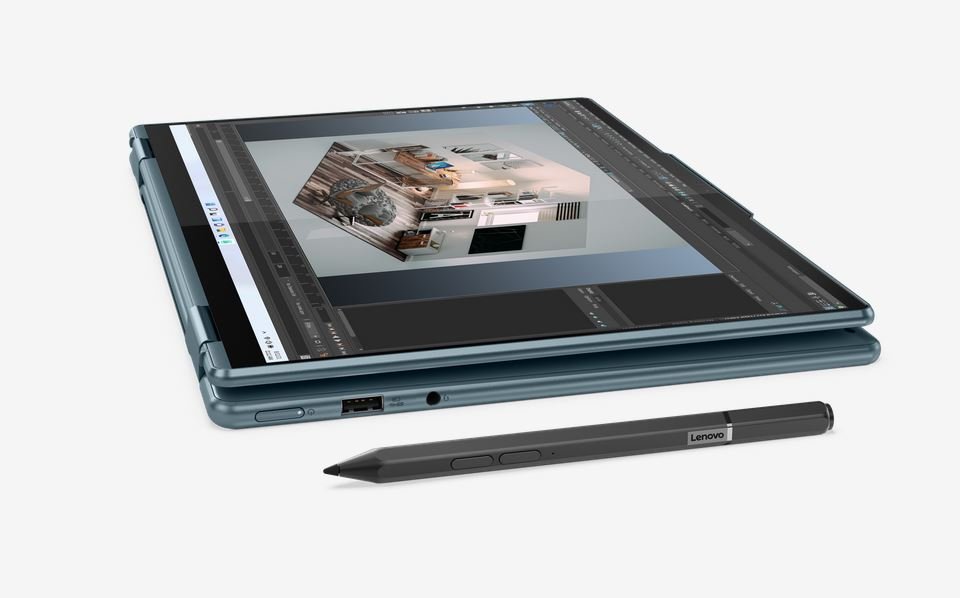 The Yoga 7
The new Lenovo Yoga 7 (14", 7) is a 2-in-1 multi-mode convertible laptop which features a comfort-edge design for an easier hold and carry experience. With AMD Ryzen 6000 Series processors, this laptop has an up-to-2.8K OLED touchscreen 16:10 display, featuring Dolby Vision for true-to-life colour, richer detail, and hardware-based low blue light, as well as Dolby Atmos enveloping spatial audio over four speakers.
The Yoga 7 is defined is versatile, with a long-lasting battery and Rapid Charge Express technology. You can create, sketch and take notes with the optional Active Pen. Its four usage modes allows users to interact with their Yoga 7 with extra features such as noise cancellation during video calls and low blue light filters to keep video quality clear and free from distraction and eye strain.
The Yoga AIO 7
Inspired by the many ways in which people are now creating, working, and entertaining at home, the new Yoga AIO 7 (27", 7) has a 27-inch 4K IPS narrow-bezel display and 95 per cent DCI-P3. The Yoga AIO 7 rotates 90 degrees, lifts up, and tilts for more viewing angles – with the gentle push of a hand or finger via its flexible hinge design. This new Yoga all-in-one desktop computer is made to be at the centre of a modern home. And it has the power to match – with AMD Ryzen 6000 Series Processor and optional AMD Radeon RX 6600M graphics featuring the AMD RDNA 2 architecture. It also doubles as a robust home entertainment system, with dual JBL 5W speakers that minimise distortion through a Lenovo passive radiator design, while taking up a smaller base footprint than its previous generation.
As well, the Yoga AIO 7's allows users to wirelessly cast their smartphone's screen to the desktop monitor to watch videos, scroll through photos, or browse social media on a 27-inch display – rotated horizontally or vertically. And while working or binging videos on a laptop, you can also augment the audio and screen size by plugging it into the Yoga AIO 7's full-function Type-C port – letting the user assume control of both devices with a keyboard and mouse – and at the same time, keeping the device charged.
Lenovo Smart Lock Services: shielding the PC from the unknown
To further support hybrid lifestyles, Lenovo is introducing its latest software application product – Lenovo Smart Lock Services. Powered by Absolute and available via Lenovo Vantage and Lenovo.com, this cloud-based security software offers users a bit of peace of mind if their PC is stolen because it gives them more remote control of the personal information stored on their device.
When deployed, Lenovo Smart Lock Services enables users to track and locate the last known location of their Lenovo device either through a web browser or mobile app. They can also remotely lock the device to restrict unauthorised access or, through its data wipe feature, delete sensitive files to help prevent identity and data theft. To help users recover a stolen PC, Lenovo Smart Lock Services includes access to Absolute's dedicated Investigations team which works closely with local law enforcement to try to track it down.
More about Lenovo: Lenovo's young creator audience is not defined by any one thing. You can find out more about Lenovo here.
For more from Women Love Tech on laptops, visit here.