Samsung Electronics Australia has recently released the Galaxy Tab S7 FE – the latest addition to its Galaxy tablet range with this one notably being the 'Fan Edition'. What Samsung has achieved with the 'Fan Edition' is to bring out a tablet with the same features users have come to know and love from the previous S7 line, but at a more affordable price point.
Here at Women Love Tech, we've been trialling the Galaxy Tab S7 FE and have found it to be a handy addition to our household's tech tools and its super light portability means we can take it with us everywhere we go – for both business and for entertainment.
In our home, there's been a lot of competition over who is using the tablet each day. Personally, as a mum of two boys, I've found the Tab S7 FE a handy addition to my daily life – especially now as we're getting back into our normal routines after months of lockdowns. With the new hybrid work models in play, there's still plenty of Zoom meetings and the Tab S7 FE is ideal for these because the screen's large enough, at 12.4 inches, and the sound is high quality. On the previous device, I was using for streamed meetings, I was constantly trying to get more volume but the S7 FE's dual speakers – powered by AKG Dolby Atmos – provides a deeper, more crisp sound and you can access more volume if you need it.
As well, the tablet has an 5MP front camera for Zoom meetings – and selfies if needs be – and the camera provides a high quality picture with enough ambient light so I don't look like I'm broadcasting from a cave. This has been a welcome change.
I've been able to use the Galaxy Tab S7 extensively for work, including taking notes using the very responsive S pen. I haven't been a big fan of writing notes on a screen before but the Tab S7 FE comes with an S pen which feels different right from the start. It's so responsive and there's some give in the tip so it does feel like you're writing on a notepad. This pen has been a game changer for me – I'm happy to sit there and type notes and save them. You can use Samsung Notes to convert your notes to text so this is even handier. The applications for students are huge – I can see university students using a tablet like this 24×7 because they can take rapid notes in lectures and tutorials and then convert them to text for reference later.
My 12-year-old son has used the S7 FE in our trial as well and he's found the tablet's a comfortable size to pack in his school bag as it's not too heavy. He's able to use it to read his work online easily. He does reach for the tablet a lot when he's home as well – drawing doodles with the S pen or playing some selected games. If we're out on the weekend and he has some time to fill in, he can log on and watch something from Disney+ or he can read one of his online books. The tricky thing is, we'll both be reaching for this tablet when we're packing to go on holiday – and that's why we're keen to add the Samsung Galaxy Tab 7+ to the bundle of presents under the Christmas tree!
Summary
So, we've found the Samsung Galaxy Tab S7 FE has been a welcome and helpful addition to our household. It's a handy tool for me as a busy working mum, particularly given I'm out and about so much and don't want the extra baggage of a heavy laptop. It's also perfect for students of all ages – from high school through to university. And it still comes up with the goods when you're away from home and you have some spare time and you want to stream something entertaining, because both the sound and the screen make movies look superb on screen and it's also great for listening to music. So, for our family, it's ticking a lot of boxes.
For work and play on the go, this is a piece of tech which will find a welcome home in many households.
Here's a rundown of the Galaxy Tab S7 FE's features:
Display: The S7 FE has a large 12.4-inch display and we found this to be an important feature. It's large enough to be able to enjoy watching a movie or to use it for a Zoom meeting. While it's bigger than many other tablets on the market, it doesn't seem heavier as it's fairly thin (6.3mm) and light (608g). It has a TFT display with a resolution of 1600 by 2560 resolution and when you're watching Netflix or YouTube, the content comes up well.
S Pen is included: The new tablet comes with an S Pen included in-box and it has a safe, magnetic slot where it's stored and charged. But if you're in a rush, the S pen can temporarily be stored on the longer edge of the tablet. This pen allows you to take notes easily and quickly and it's a bonus that Samsung includes an S Pen with the tablet because by comparison, if you buy an iPad, you have to pay extra for a pencil. By including the S Pen, it gives you a chance to work out if you need it and to see how it helps your work flow.
The S pen is very responsive and you can do amazing things with it graphically – drawing pictures etc – using Noteshelf which is included for free. You can use Samsung Notes to convert your on-screen handwritten notes to text. Plus you can keep your notes organised with automatic tags and you can use Intelligent Search to find your exact notes – it doesn't matter if they were typed or handwritten.
Canva Pro is pre-loaded: The S7 FE comes with Canva-Pro pre-loaded as a free 30-day trial. Canva goes so well with the S Pen, this is a top feature. If you haven't used Canva before, you'll be tempted to learn much more about it when it comes pre-loaded like this.
Clip Studio Paint is preloaded: New users get a free six-month trial of Clip Studio Paint so you're all geared up for graphics etc.
Battery: The S7 FE has a powerful battery which lasts for one average work day. So you can use it when you're out and about and you won't be constantly worrying you're going to run out of battery. It's the same battery as Samsung used in the higher end – and more expensive S7*. If you find you do need more battery for a longer than average work day, you can buy a 15W fast charging travel adapter separately.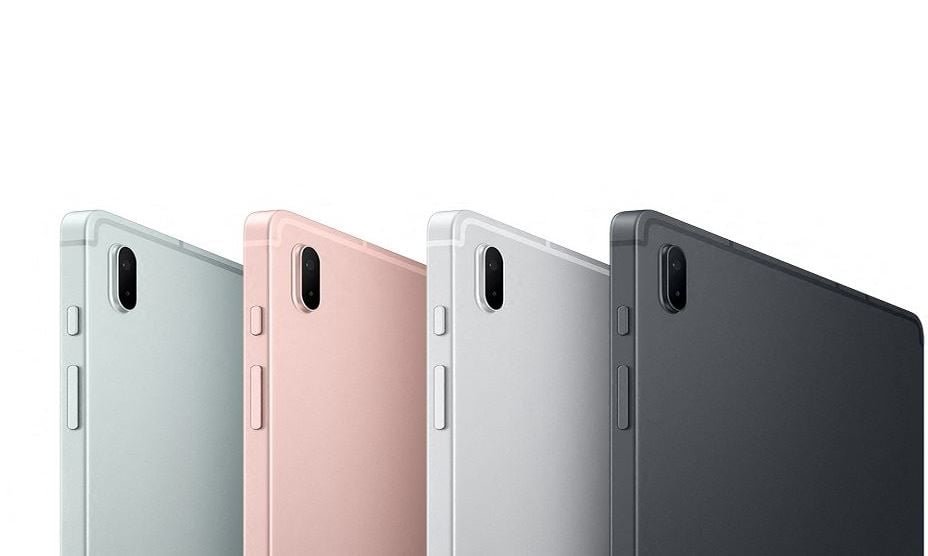 Sound quality: The tablet has dual speakers powered by AKG Dolby Atmos and they provide sound with the full range of sounds from bass to treble – and there's enough volume for Zoom meetings. If you want to use headphones, you'll need to use wireless ones as there's no 3.5mm headphone jack so you can't plug headphones in. If you definitely want to use them, you'll need to buy an adapter.
Camera: It comes with an 8MP rear camera for taking photos and a 5MP front camera located at the top centre of the screen for selfies and Zoom meetings. These cameras can provide high quality photos and provide a quality image for virtual meetings etc.
Multi-Active Window: If you're using the S7 FE and you need to open multiple tabs or applications at once, this tablet can handle it. It has Multi-Active Window which means you can open three apps at once. So, you can be browsing the web, taking notes and streaming a video — all on the one screen. It also has a useful feature called App Pair which means you can save and launch a bunch of your apps together in Multi-Active Window.
Choice of colours: The tablet comes in the same metal finish as the standard S7 line but you have four colours to choose from: Mystic Black, Mystic Silver, Mystic Green and Mystic Pink.
Ease of use: The S7 FE comes with Samsung DeX and you can purchase a Book Cover Keyboard Slim, which means you can use it just like a laptop.
We found it doesn't matter – whether you're taking notes on the tablet and then flipping it back into the laptop position – either way, the user experience is pretty comfortable. The keyboard doesn't come with a touch pad so you'll still need to touch the screen for certain commands. If you'd prefer a touch pad, you can buy the keyboard for the S7+ and it does have a touch pad and it will fit with the S7 FE. As well, thanks to the Second screen, you can use your Galaxy Tab S7 FE as an additional display, alongside your PC, to expand your view if you need to.
Connectivity: The tablet comes with a choice of Wi-Fi or 5G connectivity and this is the first time Samsung has offered 5G connectivity on a mid-tier tablet. The tablet works seamlessly with any other Samsung device you have – from your phone to your earbuds. You can take calls and send and receive text messages through your Samsung account on your tablet, even when your smartphone is out of reach. You can copy and paste text or images between the devices. If you're listening to music or watching a video on your Galaxy Tab S7 FE and need to take a call on your smartphone, your Galaxy Buds can automatically switch over to your other device.
Storage: The tablet comes with 4GB RAM with 64GB internal storage and you can buy a microSD card to hold up to 1TB.
Price point: At the entry level of $799, the S7 FE Wi-Fi 64GB comes in at an affordable price point – in all four colours. The great thing is, this means you're getting a lot of great features without costing the earth. The Tab S7 FE Wi-Fi 128GB is priced at $899 because you're getting more storage. The Tab S7 FE 5G 64GB is $979 and the Tab S7 FE 5G 128GB is $1079, so you will pay a bit more if you're after the 5G connectivity.
Availability: In Australia, the Galaxy Tab S7 FE is available to purchase from major retailers including JB Hi-Fi, Harvey Norman, Officeworks, The Good Guys, Bing Lee, Big W and Amazon as well as the Samsung eStore.
Also, check out the Galaxy Tab S7, Galaxy Tab S7+ .
About Samsung Electronics: Samsung inspires the world and shapes the future with transformative ideas and technologies. The company is redefining the worlds of TVs, smartphones, wearable devices, tablets, digital appliances, network systems, and memory, system LSI, foundry and LED solutions. For more information visit Samsung here.
For more reviews from Women Love Tech, visit here.
For more reviews from Women Love Tech, visit here.
This is a sponsored post by Samsung. All opinions expressed by the author are authentic and written in their own words.