COVID-19 has meant that many restrictions have been placed on the things we love the most. Live sports is scarce, social gatherings in large groups are not permitted, exercise is limited, and we've been instructed to stay at home whenever possible.
So what do we do?
There's only so much we can do in our homes, so people have gone to Pinterest for things like quick and easy cooking ideas, crafts and lesson plans for kids, tips for growing vegetables and more. In fact, according to Pinterest, this weekend was an all-time high in activity for the UK, France, Germany, Italy, Spain and more, with more searches and saves of Pins on the platform than any other weekend in the sites' history.
Here are some of the top searches from the past few weeks according to Pinterest:
Searches for stay at home kids activities
Work from home with kids searches
Searches for Work from home jokes
Tips for working from home 
So in light of the current situation, Pinterest has launched the Today tab, the place where people can find the topics they love and the world's trending pins all in one place. This daily source of inspiration will feature advice from the World Health Organisation and Centres for Disease Control on subjects like hand washing as well as fresh ideas for baking, remote working setups, family movies and many more.
All users need to do to access the world's trends is click on "Today" at the top of their Pinterest feed in the app. The tab will start off with ideas curated by Pinterest's team, and then will feature guest editors in the future.
Home feeds remains a personalised space for inspiration with recommendations based on Pinners' activity, the "Today" tab simply curates content based on current trends and what people are searching for so you can stay in the loop. So you can use both to stay on top of both yours and the world's interests.
Additionally, with an increase in search of keywords and phrases including "stress relief", "calming quotes", and "stress quotes", Pinterest is also adding a custom search experience that gives users access to emotional wellbeing activities from experts based on what terms they search. For example, if you were to search for "coronavirus", you'd get something similar to below: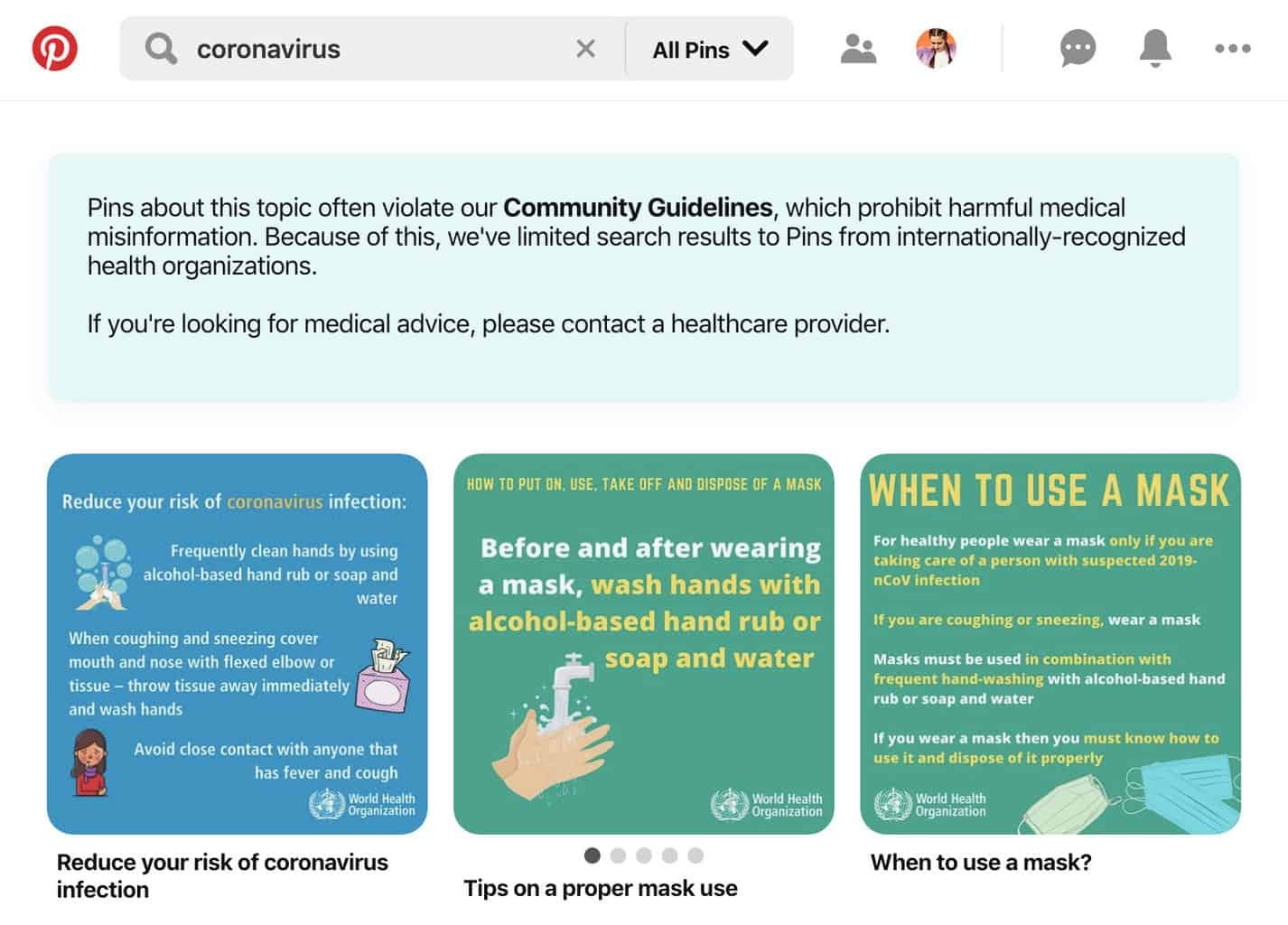 Here are some other ways that Pinterest is making reliable information easily accessible to everyone:
Prohibiting ads that claim to offer cures or treatments or that are looking to exploit the crisis
A banner across the site that leads to COVID-related information, including content from the World Health Organization
An easy way to report health misinformation through the "health misinformation" option on Pins. Pinterest is removing any misinformation it finds about COVID-19 because it violates the company's health misinformation policy (which has been in place since 2017).
A Stay safe, stay inspired board shared with Pinners
A curation of helpful COVID-19 related information featured globally
The "Today" tab is only available in the UK and US for now, but will soon launch in more countries.