Samsung has announced their latest AV lineup today, and yet again, the brand has continued to revolutionise the home electronics industry. The launch includes a new range of Samsung OLED TVs joining its premium Neo QLED 8K & 4K TVs, Q-Series soundbars, and lifestyle display options.
The products were developed based on three fundamental principles:
1. Bigger is better when it comes to TVs. Samsung has found that when customers purchase a large-screen TV, they are highly unlikely to regret their decision. They have also found that the number of customers interested in purchasing large TVs is growing rapidly.
2. Large-screen TVs need big picture quality and big audio experiences.
3. Samsung TVs deliver more than their core promises. Through smart home features, Samsung's goal is to seamlessly deliver more efficiency into the daily lives of their customers.
Jeremy Senior, Vice President – Consumer Electronics, Samsung Australia, said "Samsung understands that technology should empower and enhance every person's life. That means making big screen experiences more accessible, more intuitive, and more personalised to Australians. In combining our market-leading TV innovations with unique software solutions such as SmartThings, we're ultimately transforming our TVs from being entertainment units to sitting at the centre of Australian smart home experiences."
Here's a rundown on what you need to know about the new features:
Samsung Smart Home Features
Via Smart Hub, the new range of QLED and OLED TVs has SmartThings and the Zigbee & Matter Thread One-Chip Module built in. This means that you can easily integrate all of your home's smart devices and appliances through the TV, providing more convenience in your day-to-day routine.
SmartThings allows you to connect your TV to your air conditioner, dryer, lights, blinds, and more. For example, if you are wearing a Samsung smart watch and your resting heart rate gets to a point that signals that you have fallen asleep, this will switch off the lights and turn the bedroom TV off. Another example is that your TV can alert you if your fridge has been left open accidentally. This not only makes your life easier, but it also increases the energy efficiency of your home.
"Samsung is paving the way for smarter homes via support for Matter," said Jeremy Senior. "Thanks to this collaborative mindset and the open nature of the SmartThings platform, Australians can build a network of connected devices that makes their home smarter and their lives easier."
Samsung Neo QLED 8K & 4K
The new Samsung Neo QLED 8K and 4K televisions offer stunning picture and design, dynamic audio, and seamless connectivity with other smart devices. They are the perfect choice for bright living spaces due to the Samsung Quantum Mini LED technology which powers over 33 million pixels, providing over a billion shades of colour. Thanks to the advanced Neural Quantum Processor, the TVs automatically upgrade content to 8K or 4K resolution, making details clearer and more vivid than ever before.
The 8K and 4K QLED televisions are offered in incredibly immersive screen sizes, ranging from 43 inches to a massive 98 inches. The anti-glare and ultra-wide angle features ensure that the television content can be viewed in vivid colours at any angle or light.
Samsung OLED Range
In addition to the Neo QLED 8K & 4K televisions, Samsung has launched two new products in the OLED range: the S95C and S90C. These televisions are also powered by a Neural Quantum Processor, and contain 8 million self-illuminating pixels comprising 3 subpixels for an incredible colour display.
Motion enhancements have been included in this range to ensure that high-speed games and movies appear consistently crisp. Both models boast blazing-fast speeds up to Motion Rate 200, while Game Motion Plus achieves up to 144Hz 4K VRR.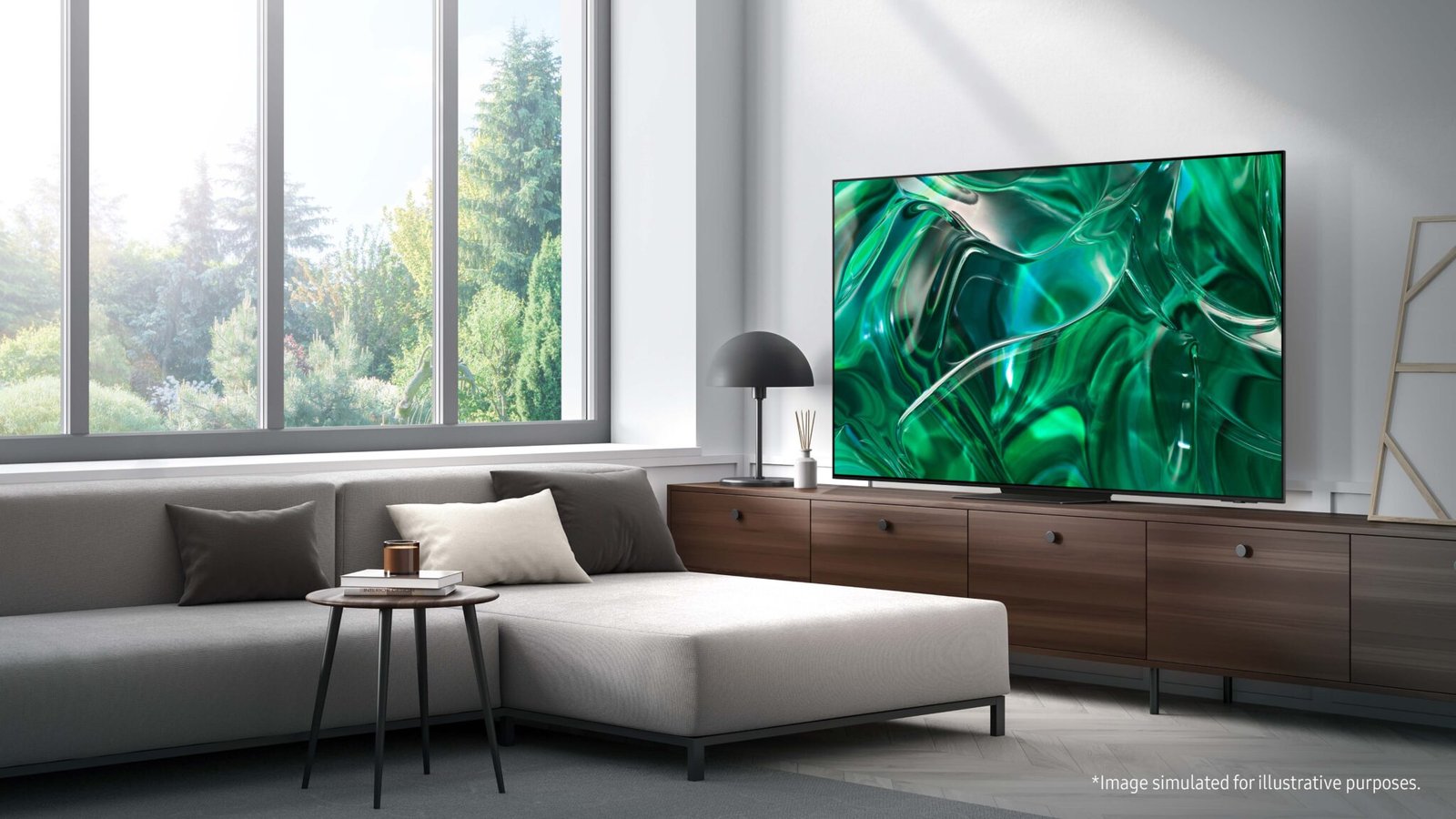 Perks for Gamers
The new range of premium QLED and OLED screens also come with added benefits for gamers. This includes the integration of Xbox Game Pass with the TVs, which provides console-free cloud gaming. Additionally, gamers can now fully immerse themselves in their gameplay, as the Neo QLED 4K uses high-performance graphic cards that support 4K resolution at a fast pace.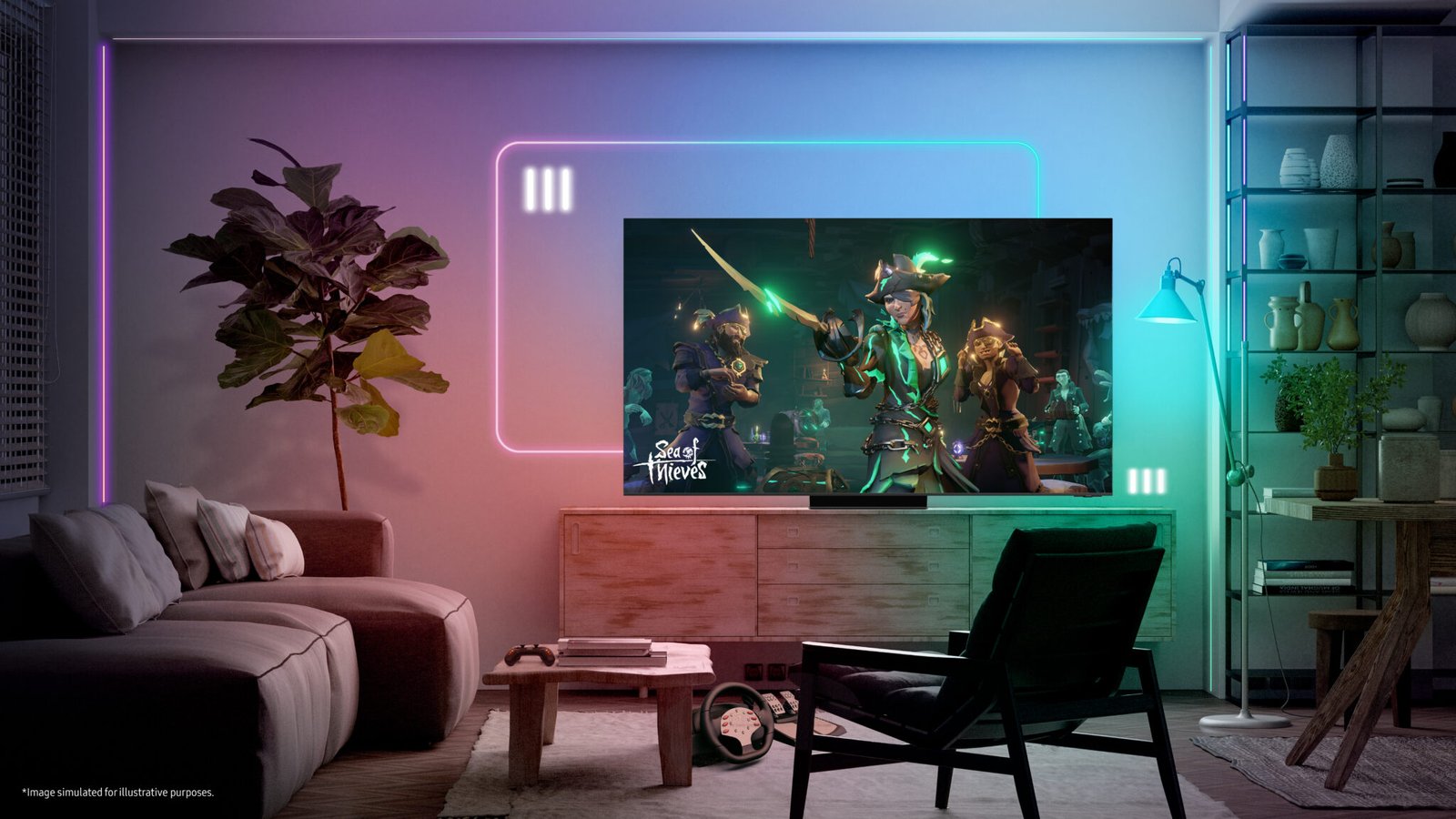 Cinematic Audio
If you want to want to get cinema-quality audio in your living room, the new Q-Series and S-Series soundbars are the perfect addition to your setup. Samsung TVs, including the Neo QLED 8K and 4K, Samsung OLED, The Frame, and The Serif pair seamlessly with these new soundbars. SpaceFit Sound takes the personalization of the home cinema experience to another level, by automatically calibrating the TV and soundbar to the specific size and layout of the room. By emitting test tones throughout the space whenever the TV is turned on, SpaceFit Sound optimizes the audio settings for a truly immersive viewing experience.
For more on the latest developments in smart home technology, check out:
Smart Home Designs Trending Now!
Smart Home Hacks To Keep Your Home Safe When You Are Away