If you've already packed your bags and looking forward to your first trip away in a long while then you may be in need for some simple hacks to keep your home safe.
Keep your home safe, even when you're away
Start by installing smart home security devices to protect your home once you've headed for the hills. There's plenty of devices on offer like the Ring Video Doorbell 4 and Ring Floodlight Cam Wired Pro which connect to your mobile phone via an app and can alert you when anyone approaches your home.
The Ring Video Doorbell 4 includes a camera, microphone and speaker so that you can see, hear and speak to visitors through your phone– whether you are at home or away. Plus, with the Ring app its easy to customise motion zones and fine-tune which areas you want to focus on.
For Peace Of Mind Create Ways To Mimic Custom Routines
Turning your lights and appliances on and off like normal can be organised. So it's easy to set up smart routines to give the impression that someone is home.
Alexa devices allow you to set customisable routines that can be programmed to mimic your usual daily routine. This includes playing music or putting the TV on and off in the evening and switching your lights to come on from 5pm-10pm.
Watch out for leaky taps or check your pets
It's not only exterior security but interior devices that can be used to watch what's going on from afar. Devices like the Ring Stick Up Cam can help you add security anywhere – inside and outside the home – with its wire free design meaning you can put it where you want it and move it around the house if you need to.
The versatility of the device allows you to monitor the area of your home that matters most to you, for example, a room with high value tech or the back door to the house. Alternatively, the device is great for monitoring bathrooms or kitchens so that you can do frequent check-ins to ensure there is no leakage or flooding from taps.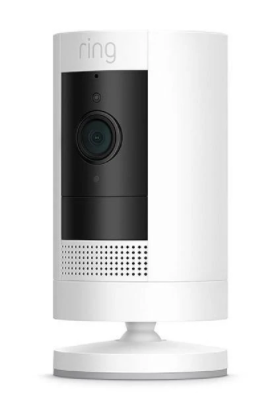 Smart home devices can double as smart-security
If you already have an Alexa device, it can be a cost free way to monitor the interior of your home while you are away.
Alexa devices like the Echo Show 5, Echo Show 8 and Echo Show 10 have an optional home monitoring feature that, when activated, allows you to check in remotely from the Alexa app and view your home through the device's camera.