Iconic Australian fashion house Aje presented their Resort 24 collection 'Element' at Fashion Week this month in partnership with Samsung. The collection was showcased at Sydney Modern Project at the Art Gallery of New South Wales and paid homage to the brand's 15 incredible years since it was founded.
To celebrate the anniversary, signature early design elements were integrated within the collection, such as ivory denim with hand-embroidered patchwork, exaggerated whip stitching across necklines and seams; and floating silhouettes with plissé pleats, wire hems, and gathered ruffle accents.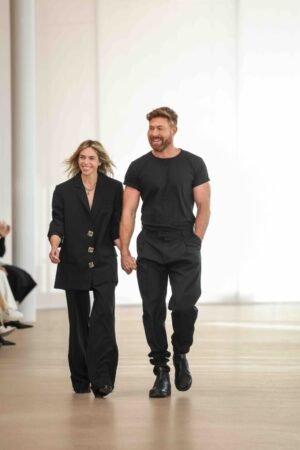 We spoke to Aje founders Edwina Forest and Adrian Norris to hear more about their design inspiration for Australian Fashion Week, how they are embracing technology in their business, and their commitment to supply chain sustainability.
Could you tell us about the inspiration behind the Resort 24 'Element' collection?
Edwina: This collection is truly a celebration and culmination of the last 15 years of Aje. While designing Resort 24, Adrian and I kept returning to the design codes that have shaped the brand since it began. In other words, the elements that make Aje, Aje—our appreciation for raw beauty, femininity with an edge, artisan sentiment and our Australian heritage. With 'Element', we sought to reinterpret these founding codes for who we are today, and will be in the future.
What signature design elements define the essence of Aje, and how was this showcased at Australian Fashion Week?
Edwina: Intertwined with the aforementioned elements, an intrinsic sense of undone elegance and a 'barefoot luxury' sensibility are very much at the heart of Aje and deeply infused within this collection. Every piece speaks to our love of craftsmanship and considered deconstruction, envisioned for the Aje Woman who gravitates towards versatile pieces that set her apart.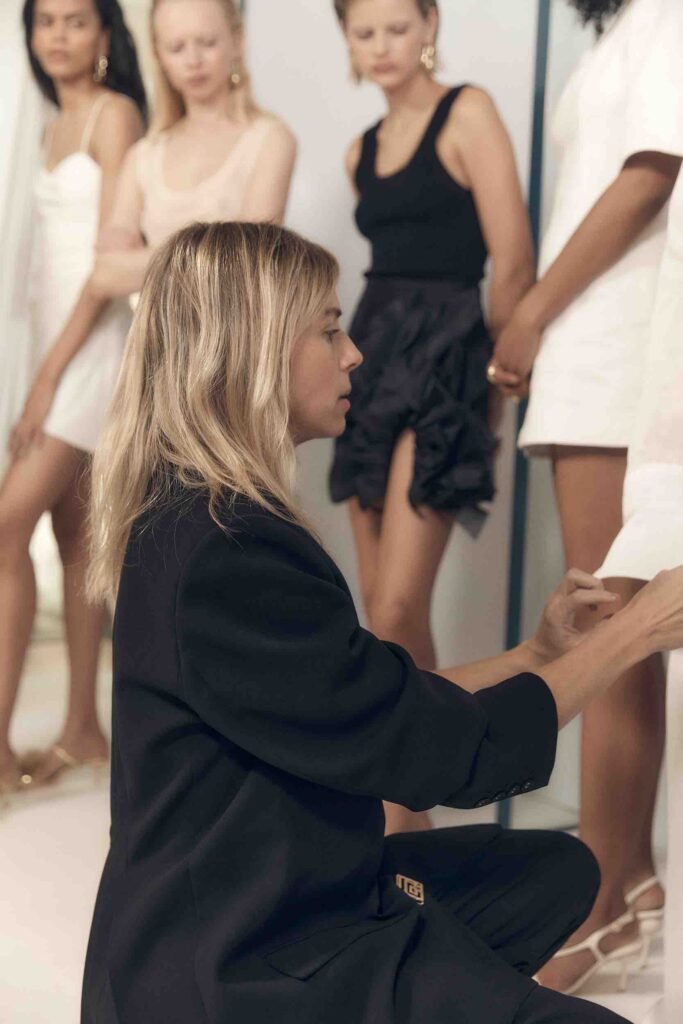 Congratulations on Aje's 15-year anniversary! How did you pay homage to Aje's history at Fashion Week? How has the brand evolved over the years? What is some of the feedback you get that you enjoy most?
Edwina: Our 15th anniversary is very much a proud moment to celebrate, and showing at AAFW this year is particularly special. We are incredibly proud of our Australian roots, so it is a privilege to pay homage to our heritage and reflect on how far we've come in preparation for this runway. Looking back at our archive with this collection, it's been humbling and heart-warming to see all that we've created over the years, and how we've been embraced by both customers and local industry alike.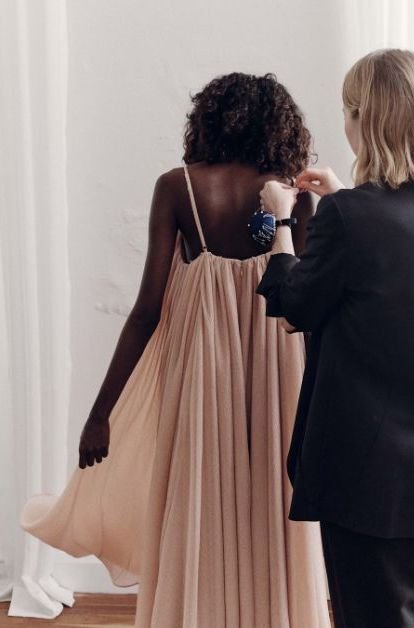 You have made an exciting partnership with Samsung for Fashion Week this year, could you tell us how you incorporated technology as accessories into the Aje show?
Adrian: It was fantastic to collaborate with Samsung for the Aje Resort 24 runway. The fusion of fashion and technology was prominent among our guests at the show; with many accessorising their Aje looks with the addition of their sleek Samsung phones. The same was glimpsed backstage, where I saw lots of our incredible models capturing their own content with their Samsung phones.
What can we expect to see from Aje going forward? How is tech assisting these future endeavours?
Adrian: Our sights and movements are set towards global expansion. Following our first international presentation held in New York in September last year, and pop-ups in London and Paris with leading department stores, it's the logical moment to continue exploring our opportunities abroad. With this in mind, the Galaxy Z Fold 4 has proven to be a reliable and luxury smartphone whilst travelling overseas. Besides being incredibly sleek in design, the high-quality camera has been great for content capture, and the widescreen display makes working on the go a breeze.   
How does tech impact your business?
Adrian: At Aje, technology is far more than just our systems and applications—it's also our way of connection. It helps us stay in touch with our teams across 26 Aje and 15 AJE ATHLETICA stores, enables a deeper understanding of our customer and allows us to support them anytime, anywhere. We're currently working on projects across AI, VM and loyalty, all of which will help our teams deliver exceptional experiences for our customers.
In what way has Aje adopted sustainability in its business?
Edwina: As a brand, we hold Aje Aware pillars as our guiding principles and recognise that sustainability is a journey that requires ongoing commitment and investment, with our team focused on driving positive social and environmental change through our supply chain. 
In 2022, we commenced our journey towards becoming a B Corp-certified company within the next three to five years. As such, we are always working to minimise our environmental impact, from utilising recycled and organic materials—which are among our preferred fibres—to constantly re-evaluating our practices and processes to emphasise recyclability and reusability where possible. 
Additionally, Aje is proudly a member of the United Nations Global Compact. This strategic policy initiative aligns our operations and strategies with ten universally accepted principles in the areas of human rights, labour, environment and anti-corruption. 
For more on fashion, check out:
From Fashion To Farmer: Meet Vanessa Bell
5 Best Fashion Apps For A Sustainable Closet 
VAULT Showcases Vintage Designer Pieces At Melbourne Fashion Festival