There's something exciting about trialling new Apple products and the latest newly designed Apple AirPods certainly didn't disappoint.
They fit perfectly in my ears which is a must for good sound, and have an extended battery life albeit still less than other earbuds on the market. But for me, what is a major plus is the new AirPods offer spatial audio featuring Dolby Atmos in Apple Music, allowing a vastly enhanced listening experience.
Previously, I've enjoyed watching Netflix and listening to my music play lists on Apple Music with the AirPods Max so it's good that now Apple's most basic earbuds provides this too.
As you'd expect, Apple's third generation of its AirPods offer quick and seamless connectivity with Apple devices, you can also switch easily between devices and the integration with Siri works well. I also found the functionality simple with a double tap to play or skip forward.
Much of its high-performing sound comes from the power of the H1 chip and Apple-designed acoustic system. The AirPods use computational audio to deliver sound with Adaptive EQ.
It's good to know the buds are resistant to sweat and water, and feature a force sensor for easy and intuitive control of music and phone calls which is useful when you are on the go and it will last for up to six hours of listening time and up to 30 hours of total listening time. This is an improvement on the previous model but I've never found battery life to be Apple's best offering. That really comes from quality design, usability and sound. Below are the features that make the new AirPods worth having.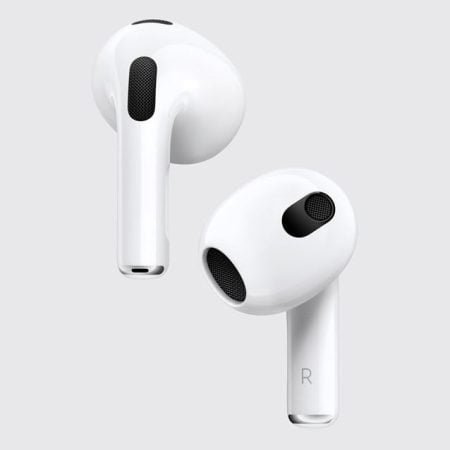 New design
The super light new design is contoured to fit easily in your ears and like previous generations, it is intuitive to use. The design differs mainly because it has a shorter stem.
New audio features
Sound quality is first rate. The microphone is covered by an acoustic mesh to help reduce the sound of wind, so the speaker's voice comes across distinctly on calls. AirPods also feature AAC-ELD, a superior speech codec that offers full HD voice quality, providing clear, natural communication for FaceTime calls.
I'm a huge fan of the spatial audio feature which essentially provides a three-dimensional cinema-like experience, placing sound virtually anywhere in space, and with Dolby Atmos. This makes your listening experience fully immersive and once you start using spatial audio, it's hard to go back to anything else.
In-ear detect
Your music automatically pauses when you take the buds out, and it picks up where you left off as soon as you place them back in your ear. There's a new skin detect optical sensor, which when combined with the accelerometer, helps the new AirPods to better determine whether they are in your ears or in your pockets—this helps deliver better battery life.
Audio Sharing allows you to share the audio stream between two sets of AirPods, AirPods Pro or AirPods Max, while using any of these devices – an iPhone, iPad, iPod touch or Apple TV.
Beamforming microphones:
When you're on a call or using Siri, a speech-detecting accelerometer works with beamforming microphones to filter out background noise and focus on just the sound of your voice.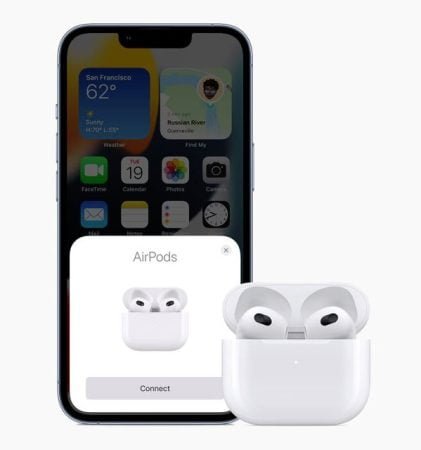 Hey Siri: Whilst working or exercising the ability to go hands-free and control your music, calls, reminders, and more with a simple "Hey Siri" is useful. With an expansive set of commands, Siri comes in handy.  She will even read out your Messages, Reminders, Calendar, calls, or any third party app that adopts the new Time Sensitive notification API.
Enhanced Find My: There's more benefits when it comes to tracking down your AirPods with the Find My app. Now you can see how close they are with proximity view, get separation alerts if they're out of Bluetooth range—or have them play a sound so you can locate them. You may find the separation alerts annoying so if that happens, it's easy to switch them off.
As a self-confessed fan of Apple, I loved these bite-sized AirPods and I don't go far without them on me. While you can buy cheaper earbuds than this and ones with longer battery life, there's something safe and solid about sticking with Apple products. You always know you are buying  a quality product and it's really comforting to know the company is now putting a huge focus on producing more sustainable products.
Pricing and availability
AirPods Pro now come with MagSafe Charging Case for the same price of RRP A$399 inc. GST.
New subscribers can get six months of Apple Music free with the purchase of any AirPods, AirPods Pro or AirPods Max.
Customers can add personal engraving with emoji, text and numbers to cases for AirPods Pro, AirPods (3rd generation) and AirPods (2nd generation) for free on apple.com/au/store and in the Apple Store app.
For more from Women Love Tech on Apple products, see here.